Viral Video: Cop saves teen's life who jumped in front of a train in Thane
Constable Mane pushed the boy away to another track where no train was scheduled to arrive.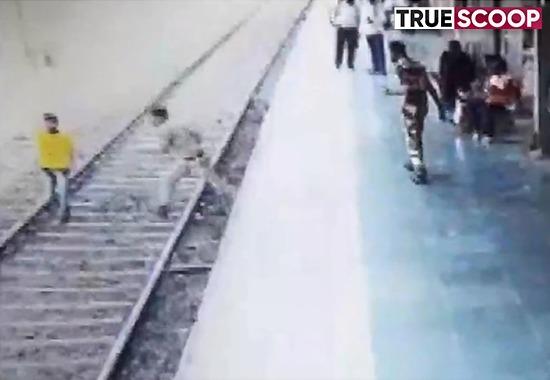 -

A Government Railway Police (GRP) personnel in Maharashtra's Thane saved the life of a young boy that jumped in front of a train. A shocking video has come out from here and this video is blowing everyone's senses. The police personnel is receiving plaudits on the internet for taking up a daring action.




The incident took place at Vitthalwadi railway station in Thane at 2 pm on Wednesday. The heroic incident was caught on a CCTV camera and the Western Railway shared it on social media.




The young man Kumar Pujari tried to commit suicide after having a quarrel at home. Constable Hrishiksh Mane noticed him loitering on the platform for quite some time. The teenage boy jumped on the railway track at around 2:30 PM when Madhurai Express pulled into the platform.



Constable Mane did not care about his life and jumped onto the track to save his life. He pushed the boy away to another track where no train was scheduled to arrive.
Later, the police officials took him to the nearest police station and called his parents.
Patiala Railway Station recently witnessed an act of great courage as well as luck when RPF personnel saved a man's life from the jaws of death. RPF India's official Twitter handle on Wednesday shared spine-chilling CCTV footage which later went viral on social media. Patiala Railway Station viral video shows how RPF personnel bravery saved a man from a horrific death when he was being dragged by a moving train.
The Railway Protection Force (RPF) recently shared that it has rescued 2,201 minors - 1,488 boys and 713 girls - so far this year. February itself, 1,156 children - 787 boys, and 369 girls - in need of care and protection were rescued in follow-up action in coordination with the NGOs, the force said in a statement.