Published On
Viral video shows child stealing money by scanning a FASTag; what is the truth ?
The viral video appears to show a kid trying to wipe a car's windshield while using his smartwatch to scan the FASTag.
Author :
Ms Chaithra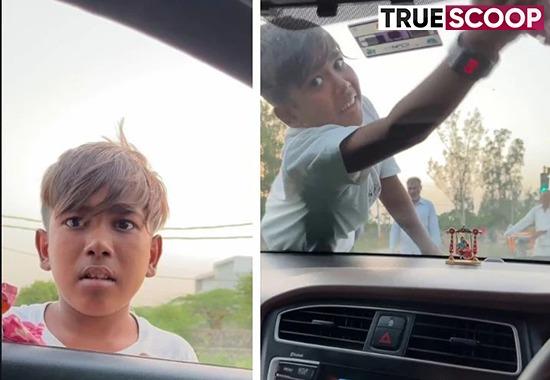 A viral video purporting to show a child scanning a FASTag to steal money from a driver's bank account has been disproved by the government organization responsible for the FASTag toll collection system.
The video appears to show a child cleaning a car's windshield while using his smartwatch to scan the FASTag. The boy immediately flees when the driver inquires about the watch on his wrist.
Awanish Sharan, an IAS officer, was one of those who reposted the video and questioned its truth.
The FASTag stickers that are placed on vehicles to collect tolls have been made clear by the PIB fact check that they cannot be used to rob money from online wallets. The Press Information Bureau's Fact-Checking division was reacting to a video where such a statement was made. The video was shared on Facebook by a page called BakLol Video and has received 2.7 lakh views as of this writing.
The driver goes on to say that the kid is a part of a scam in which thieves gave kids who beg at traffic lights smartwatches with scanners. The driver's account is debited when the kid places the watches close to the FASTag.
The driver can pay for tolls automatically with a FASTag, which is a prepaid rechargeable tag service. An activated FASTag is mounted on the windshield of the vehicle and communicates with the scanner using RFID technology to automatically deduct the appropriate amount from the user's bank account.
On social media and messaging apps like WhatsApp, the video of the FASTag scam has gained enormous popularity, but not everyone is convinced of its veracity. It is impossible to steal money using this manner, according to several fact-checkers and cyber security specialists as well as the unconfirmed official Twitter account of FASTag NETC.