Published On
What happened to Silicon Valley Bank? 16th largest bank of the United States shut down
Silicon Valley Bank's parent company's share fell by 60% on 9th March 2023 resulting to huge financial loss Author :
Guneet kaur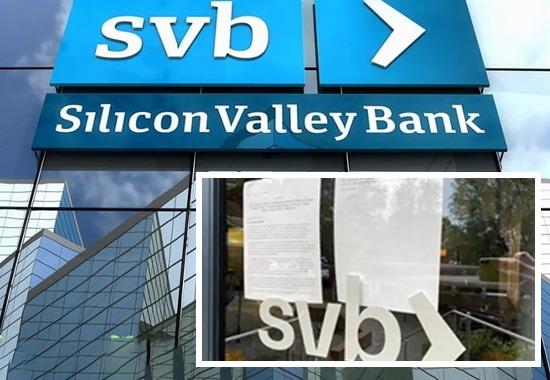 In the latest development, America's 16th largest bank Silicon Valley Bank was shut down by its financial regulators. This order came by California's Department of Financial Protection and Innovation after Silicon Valley Bank's parent company's share fell by 60% on 9th March 2023. Post this, SVB Financial Group shut the bank down and stopped all trading going on. According to experts, this is the biggest financial failure in the history of US after 2008 financial crisis.
The Federal Deposit Insurance Corporation announced takeover of Silicon Valley Bank and also took responsibility of keeping the money of the customers safe. Reportedly, due to fall in shares of SVB ranging to 60%, US banks have lost $ 100 billion in the stock market in the last 2 days. At the same time, European banks have suffered a loss of 50 billion dollars. The Federal Deposit Insurance Corporation have sated that Silicon Valley Bank will open for the very last time on 13th March 2023 during which all depositors will be free to withdraw their deposited amount.
As per information, only deposits up to Rs 2.5 crore will be returned. The Federal Deposit Insurance Corporation revealed that Silicon Valley bank had assets amounting to $ 209 billion and deposits of $ 175.4 billion. As per information, 89% of this amount was not insured. Deposits only up to 2.5 crores were insured so people can get only that much. FDIC also promised to return all the money of people in coming months. However, the FDIC will issue a certificate to such customers. Under this, after the fund is recovered, the money will be returned to them first.
Reportedly, most of Silicon Valley Bank's clients were start-ups and tech companies requiring a lot of money for funding of businesses. Later, investors in tech company started to get separated from them owing to rising interest rates. This resulted in non-availability of funding which pushed the clients to withdraw more and more money from bank resulting in bank selling off its assets to pay the withdrawal amount. On 8th March 2023, 16th largest bank revealed that it had sold several securities of the bank at a loss which created an atmosphere of fear among many big capital firms and the firms.
Post this, the shares of SBV also fell by 60% resulting in huge losses to other banks. THe operation of Silicon Valley Bank was stopped after after investors were not found. In addition, several other bank stocks were also temporarily blocked on Friday, including First Republic, PacWest Bancorp and Signature Bank.
This hit to Silicon Valley Bank will affect many Indian companies because it has invested in around 21 startups in India. Apart from this, SVB has also invested in companies like Bluestone, Paytm, One97 Communications, Paytm Mall, Naaptol, CarWale, InMobi and Loyalty Rewardz.