Published On
'Grimace Shake' TikTok trend: Why GenZ are passing out after drinking McDonald's Purple drink?
The latest trend has been all over TikTok about Mc Donald's limited edition purple shake. It has been re-introduced honoring the 52nd birthday of Grimace. Author :
Vanshi Dogra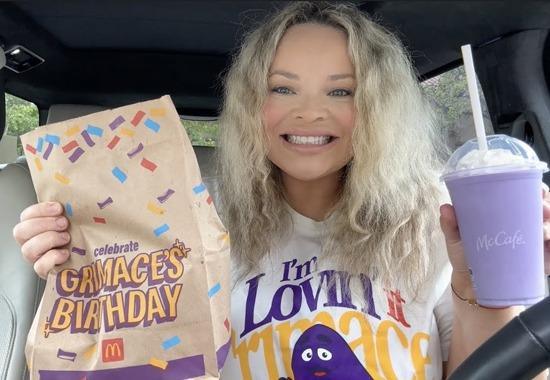 Once again TikTok is back with another trend. The internet is still talking about McDonald's distribution of a special birthday dinner for its iconic furry mascot Grimace for more than a week now. And it's not the younger children, who Happy Meals generally cater to, who are obsessed. The purple milkshake appears to be popular among Gen Z TikTokers. The viral "Grimace Shake" is making waves on TikTok as McDonald's brings back the trending milkshake. Trends on TikTok spread swiftly, including dating trends as well as challenges and dances. Lately, TikTokers have become interested in a limited-edition purple milkshake.
What is the trend?
On TikTok, videos of people posing with the purple shake in crime scene-like settings have amassed over 145 million views under the hashtag #grimaceshake as of the time of writing. The TikTokers begin the videos by sipping on a purple Grimace milkshake. The scene then changes to show them lying on their side with the shake placed to appear as though they have vomited it up after being poisoned. In other instances, people can even be seen shaking while lying there and coughing.
Who is Grimace and why his birthday was celebrated?
In 1971, McDonald's created the fictional character Grimace as part of its advertising and marketing operations. He was first presented as "Evil Grimace," a villain who robbed customers of their milkshakes. However, that image quickly changed, and he is now recognized as Ronald McDonald's fluffy, adorable, purple best friend. On June 12th, McDonald's announced a special "Grimace Birthday Meal" in recognition of the cartoon character's 52 orbits of the sun. The limited-edition combo, which includes a medium "Grimace Birthday Shake," fries, and a Big Mac (or nugget), has gained a lot of attention on social media.
Swiggy Introduces platform fee for food orders, Charges Rs 2 per order
The 'Grimace Shake' is characterized as having berry flavour and is as vividly coloured as Grimace himself. But rather than being purely berry, I'd classify it as vanilla-based with a tinge of berry. When other Reddit users described the shake as tasting like fruity cereal milk, they were spot on. Grimace's special meal is available now, and will stay on the market "while supplies last," McDonald's said.
Watch Video
This grimace shake trend is funny wtf pic.twitter.com/gUJoQ33Xte

— Jarhead (Jared) (@newjep1710) June 26, 2023
The Grimace shake incident (circa 2023) pic.twitter.com/AdtxPIGbyy

— Certified Tooru simp™✨ (@PEACHYBUNNY_1) June 26, 2023