Published On
What is Hand, Mouth and Foot Disease? All your questions answered by Dr Gurdev
Dr Gurdev creates awareness about this contagious Virus spreading in kids under the age of 5. Author :
Guneet kaur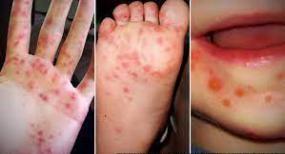 Hand, Mouth and Foot Disease (HMFD) is spreading rapidly among kids under the age of 5. Amid the rise in cases, schools of Delhi and Chandigarh have issued an advisory related for the same while others have switched to online mode.
To understand the disease, its symptoms, cure and precautions to be taken to avoid getting infected with this disease, True Scoop had a one-on-one with Dr. Gurdev Chowdhary from Ankur Hospital, one of the finest Paediatrician in the region.
Here are the answers to the questions linked to this infectious disease.
What is HMFD?
It is a viral illness that is caused by a specific virus identified as Coxsackievirus A16. In general, this viral infection affects children of age group 1-5 years. It is a contagious disease and can spread through touch from one person to another. Although it is prevailing all over the country, it has greatly affected North India in particular. The main reason behind this is lack of awareness about this disease in North India.
What are its symptoms?
If a child is suffering from hand mouth and foot disease then they typically suffer from a very high fever. There are small blisters on the palms, soles, buttocks, elbows and knees of the child. The infected children become extremely cranky as these blisters and rashes irritate them a lot. Also, it becomes difficult for both the child and their parents as the infected kid cannot eat food or drink anything properly because of the blisters.
Is there any medication for this disease?
Till now no medication is available to cure hand, mouth and foot disease. The only way out is by doing the symptomatic treatment for this infection. Many doctors don't have proper awareness about this disease so they prescribe the infected child anti-biotics and steroids which aggravates the problem. Also, there is no prescribed test to detect this disease. It can only be identified through symptoms.
How can this be controlled?
Different steps can be taken to avoid this disease. Firstly, awareness should be created among the schools about symptoms of this disease, so that the teacher can keep a check that if any child is showing symptoms of this disease, he/she should be sent home immediately. As it is a communicable disease, so the children who are getting infected should not come in contact with others of their age until they are cured. Parents should be aware enough not to send their child to school if he/she is suffering from this disease.
This hand food and mouth disease is highly infectious. HMFD disease is not a new one, it comes around every year. This viral infection has spread more vigorously this year as compared to previous years. Every day we come across 20-25 children on average who are infected with this disease.
So, if you witness any kind of rash, fever and blisters in the mouth in any child, he/she should be immediately isolated and taken to the hospital for proper medication.
Dr. Gurdev Chowdhary is a renowned Paediatrician and Neonatologist and also the director of Ankur Kids Hospital, Jalandhar. Dr Gurdev is actively creating awareness about HMFD and other child-related health issues. To know more about this disease, click the link below.