Who is Ali Reza Asahi? Afghan bodybuilder wins gold at World Bodybuilding Championships in Seoul
Afghanistan Bodybuilding and Fitness Federation (AFBBF) shared videos and pictures of Ali Reza Asahi winning the World Bodybuilding Championships in Seoul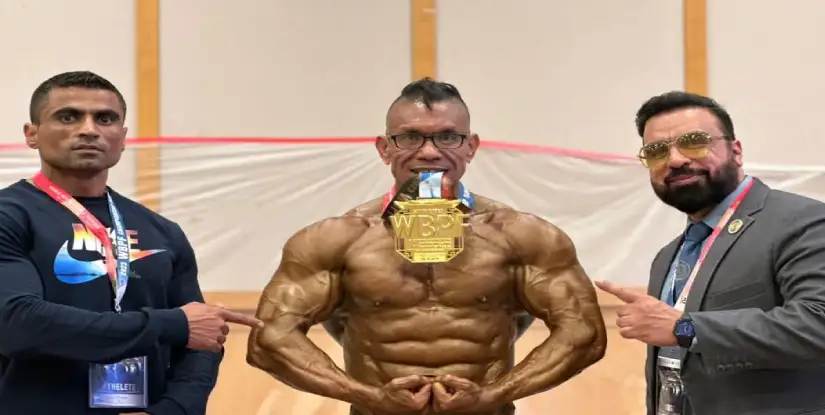 -

In a proud moment for Afghanistan, bodybuilder Ali Reza Asahi won gold at the World Bodybuilding Championships in the senior category in Seoul this week. On Thursday, the Afghanistan Bodybuilding and Fitness Federation (AFBBF) took to their official Facebook handle and shared videos and pictures of Ali Reza Asahi winning the World Bodybuilding Championships in Seoul. Although not much information is available on who is Ali Reza Asahi, his winning indeed came as a light of hope for people of Afghanistan to opt for bodybuilding at a time when Taliban is strict against showing off skin.

As per reports, Ali Reza Asahi competed in the 90 kg category. AFBBF reportedly added that Asahi beat strong opponents from China, Japan, India and South Korea. It is pertinent to mention here that Ali Reza Asahi's gold is the first ever for Afghanistan at these championships that were hosted by South Korea.
The World Bodybuilding and Fitness Championships said bodybuilders from 40 countries were taking part. Afghanistan had three athletes taking part.
Recently, an Afghani social media influencer shared Ali Reza Asahi video in which the bodybuilder was seen crying after winning the title. She shared the video with the caption, "Ali Reza Asahi, an Afghan bodybuilder, won a gold medal in the fourth round of the World Bodybuilding Championship. Look at how he can't control his tears. This is literally all of us when we hear our national anthem."