Published On
Who is the girl with Rahul Gandhi in Pub? Many claims regarding mystery girl
Rahul Gandhi is seen having a conversation with a woman in a viral video. On social media, a lot of claims have been made about this.
Author :
Samriti Bharadwaj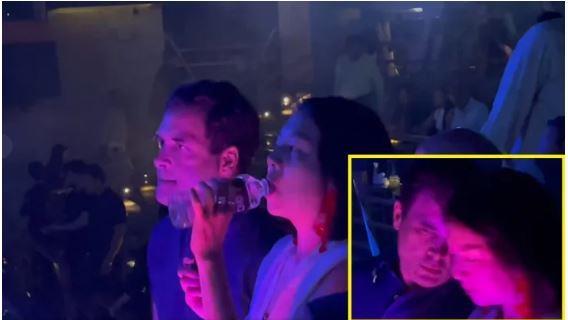 Several Bharatiya Janata Party leaders including Amit Malviya, Kapil Mishra, and Shehzad Poonawalla, on Tuesday, May 3, tweeted a video of Congress MP Rahul Gandhi at a nightclub in Nepal. In this, he is seen in a nightclub in Kathmandu. After this, the videos went viral on social media. The videos are from Lord of the Drinks, Nepal.

Simultaneously, the woman seen in the video with him in the pub is being outlined as the Chinese Ambassador to Nepal on social media. Meanwhile, Congress has claimed that Rahul has gone to a friend's wedding and that attending a wedding ceremony is not a crime.

Sharing this video, Union Minister Kiren Rijiju has written that regular parties, holidays, private foreign trips are not new to the country. As a common citizen, there is no issue but when an MP, permanent owner of a national political party who preaches to others.....

On social media, a lot of claims are being made. Whether Rahul Gandhi is partying in Kathmandu with the Chinese Ambassador to Nepal Hou Yankee, Rishi Bagri wrote on Twitter. In another tweet, it is written that Chinese Ambassador Hou Yankee is modeling for Nepal tourism.

BJP MP Manoj Tiwari tweeted the video and wrote that the party is still left. The party, not the family, is in crisis. Rajasthan is burning, but Rahul Gandhi is doing the party, according to BJP spokesperson Shahzad Poonawalla. Rahul is a full-time politician rather than a part-time politician. This isn't the first time this has happened. Remember their party mode on November 26th?

Rahul's friend Sumnima Udas is getting married to Nima Martin Sherpa. Her father, Bhum Udas, served as Nepal's ambassador to Myanmar. A formal reception will be held on May 5 at the Hyatt Regency Hotel in Budha. Rahul Gandhi is staying with his friends at the Marriott Hotel in Kathmandu.