Published On
After 7-days Lawrence Bishnoi denies killing Sidhu Moose Wala, who is the real culprit? Police yet to catch 'Killer'
Sidhu Moose Wala was assassinated on 29 May in Punjab's district Mansa. The name of the Lawrence Bishnoi gang has come up in the murder of Sidhu Moosewala. Author :
Rohit Gupta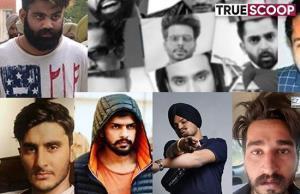 Sidhu Moose Wala was assassinated on 29 May in Punjab's district Mansa. The name of the Lawrence Bishnoi gang has come up in the murder of Sidhu Moosewala. After which the discussion about the connection of the matter with Sonipat had started.
Punjab Police's investigation has revealed that the Bolero vehicle used in the incident was seen in Fatehabad. While putting oil in the car at the petrol pump of Bisla, two youths who got down from him are being told of Sonipat.

Gangster Lawrence Bishnoi, accused of killing Punjabi singer Sidhu Moose Wala, was produced in a Patiala court on Sunday. Here he denied involvement in the murder of Sidhu Moosewala. Gangster Lawrence Bishnoi's lawyer Vishal Chopra said that the court has agreed to the Delhi Police's demand of five-day custody for Lawrence Bishnoi in the Arms Act case. The Delhi Police has nowhere mentioned in its application the investigation into the Moosewala murder case against Bishnoi.
After the murder of Punjabi singer Sidhu Moosewala, many gangs are coming to the fore. Many gangsters have declared revenge for the murder. Singer Mankirt Aulakh also came into the limelight after Bishnoi was associated with this murder case. Many gangsters blamed Aulakh for the murder. Since then Aulakh had come under the target of opponents.
Posting pictures of Bishnoi and Aulakh on social media, it is being claimed that both are special friends. In one picture, both are seen standing with their hands on each other's shoulders. After this, on Saturday, lawyer Simranjit Kaur Gill, a friend of Aulakh's college, said in a post on social media that if Mankirt had written Lawrence as a brother in a post, then what was the crime. Even then he did not know that Lawrence would later become a gangster. Being an old acquaintance of someone cannot make you guilty of his deeds. He has further said that let Punjab be Punjab, do not make Mirzapur.
A week is done and dusted
Sidhu Moose Wala was shot dead last Sunday since there were lots of commitments made both by gangsters and by government officers. However, after a week of his killing, there is no real clue who killed Sidhu Moose Wala as many gangs taking the responsibility of killing Moosewala and some are saying they will avenge his murder soon. But nothing has happened so far. Police seem helpless so far, even though Punjab CM Mann also promised Singer's parents that the real killer will be behind the bars soon.
On the hand Gangsters like Neeraj Bhawana, Lawrence Bishnoi, Bambiha Gang and other gangs all come under the doubt. Since some of them have been taking responsibility for killing him and others are becoming his saviours. But so far there is no proper evidence which suggests that 'THIS person has killed Punjabi Singer.

Moreover, it was also reported that the murder of famous singer Sidhu Moosewala of Punjab is related to Shekhawati. Even the entire planning of the murder was done in Sikar itself. Of the 6 miscreants involved in the murder, 5 were from Punjab and 1 from Sikar. Apart from this, the vehicle used in the incident was also of Sikar. SIT teams are engaged in the investigation of the case in Rajasthan. The investigation has revealed that many miscreants of Sikar were involved in the planning of the murder.
The "Lawrence Bishnoi" gang
Bishnoi was a youth leader at Punjab University. His father was a police constable in Punjab Police. Bishnoi is charged with several murder cases in Rajasthan and Punjab. "Yes, I got Sidhu Moosewala killed," Lawrence Bishnoi confessed before Delhi Police today. Bishnoi admitted that his gang hatched a conspiracy and killed Sidhu Moosewala, officials said Friday.
Gangster Lawrence Bishnoi has told Delhi Police Special Cell about the hideout and names of the arms suppliers, who are based in Punjab, Haryana, Uttrakhand and Rajasthan. Police suspect these suppliers could be the ones who helped the killer of Sidhu Moosewala -- one being headed by Ranjeet, resident of Faridkot, another Vijay, a resident of Haryana-Rajasthan Border and one more is Raka.
Involvement of Babbar Khalsa?
According to reports, it is also being revealed that the murder of Sidhu Moosewala was carried out by Lawrence Bishnoi along with Harinder Singh Rinda, a Khalistani terrorist of Babbar Khalsa. Thus, it is expected that the assassination of Sidhu Moosewala was carried out by an alliance of gangsters and terrorists.
The SIT set up by Punjab DGP VK Bhavra last Wednesday has also been asked to look into this aspect of the alliance of terrorists and gangsters. According to sources, the Babbar Khalsa militants may have helped the gangsters in providing the weapons used to carry out the anti-social activities.
The terrorist organization Babbar Khalsa is already trying to terrorize Punjab for a long time. The recent incidents in Punjab, the activities of terrorists, and the smuggling of arms are being done because they want to terrorize the people of Punjab. Terrorists, smugglers, and gangsters are working together to create an atmosphere of terror.
Who is Harinder Singh Rinda?
Harinder Singh Rinda is considered to be the right-hand man of Babbar Khalsa and a new face of terrorism has emerged shortly. The terrorist Rinda was also named in the recent attack on the Mohali Intelligence Headquarters. Rinda was an old gangster who later turned into a terrorist.
Rinda's name has been associated with many terrorists and gangsters in the past. When it comes to the alliance of these gangsters and terrorists, it first came to knowledge in November 2016 when the terrorists and gangsters escaped from Nabha Jail. For the last several years, these gangsters and terrorists have been working together to tarnish the image of Punjab.