Who leaked Aliza Sehar's video? Pakistani YouTuber reveals details on viral 'Video Call' recording
Aliza Sehar broke her silence on her leaked private video and informed that the location has been traced in Qatar with the man admitting to the crimes.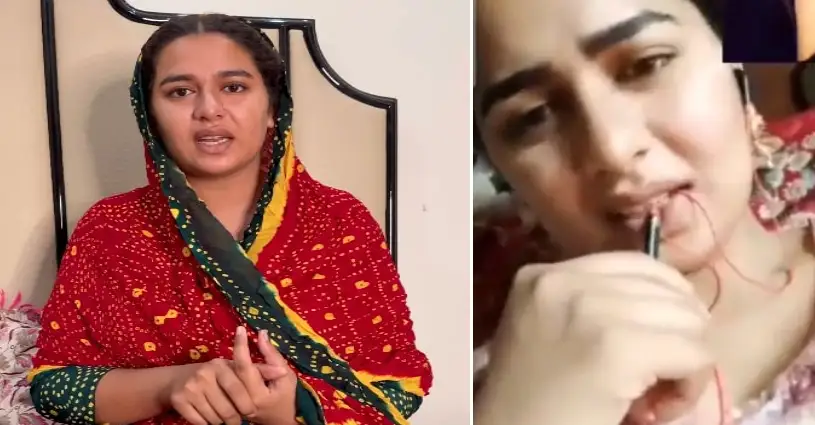 -

Aliza Sehar leaked video controversy has been breaking the internet around the world, especially in Pakistan. Pakistani netizens on X, formerly known as Twitter, have been buzzing ever since the leaked Aliza Sehar video surfaced on social media. Aliza Sehar viral video showcased the famous Pakistani YouTuber & influencer stripping her clothes on video call in front of a man. The Pakistani YouTuber was apparently not aware that the video call was being recorded and therefore she reportedly complied to strip on the call. Following that, Aliza Sehar private video call leaked on social media and the Pakistani influencer came under the scanner of social media. Now, the question arises who leaked Aliza Sehar's video or who leaked Aliza Sehar's personal video? To know the answer continue reading-
Who leaked Aliza Sehar's video?
As per reports, Aliza Sehar broke her silence on her leaked private video. Aliza Sehar in her address to her fans reportedly revealed that she went to the Cybercrime division of Multan. Multan's cybercrime cell got the location of the man who leaked Aliza Sehar's video. The man is reportedly living in Qatar. She revealed that the man is from Okara and right now he is residing in Qatar. When the cybercrime contacted him, he admitted that he had edited the video but said that he did not leak it. Aliza was crying as she mentioned these details and said that she would not have let that man go if he was in Pakistan.
Aliza Sehar leaked video call
For those who are unaware, Aliza Sehar leaked video showcased a girl, apparently the Pakistani influencer, on a video call with a boy. However, Aliza was unaware that the call was being recorded. In the viral Aliza Sehar video, she was requested by the person to reveal her body and she agreed by lifting her shirt. Thereafter, Aliza Sehar video call footage was leaked and ever since then, the Pakistani YouTuber started facing online trolling and criticism.
A report also suggested that Aliza attempted suicide due to the video leak. However, Aliza Sehar's suicide attempt report was not confirmed. Aliza Sehar is a popular YouTuber with 1.51 million subscribers on her channel. She is known for showcasing the village lifestyle in Pakistan.
Watch Video