Published On
Who was Hardeep Nijjar? Pro-Khalistan leader responsible for India-Canada standoff
Nijjar, the chief of Khalistan Tiger Force (KTF) was also wanted by the Indian government due to his association with the separatist organisation, Sikhs For Justice (SFJ). Author :
Malkit Singh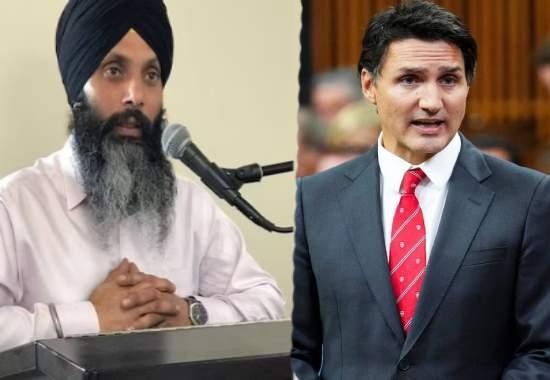 The souring relationship between India and Canada was quite evident when Canadian PM Justin Trudeau arrived in New Delhi for the G20 Summit and was left stranded for a couple of days due to a technical glitch in his chartered flight. While India displayed the example of 'Vasudhaiva Kutumbakam' and offered Canadian PM Trudeau the Air India One so that he could fly back to his country, he totally denied it hinting that all may not be well among the nations. Now, on Monday, Canadian PM Justin Trudeau put a stamp on the souring relationship with New Delhi after he dropped a massive allegation saying that Indian agents are linked to the assassination of Khalistani leader Hardeep Singh Nijjar. While Hardeep Singh Nijjar was a staunch supporter of Sikh's own homeland i.e. Khalistan, reports suggest that he was actively involved in anti-India activities including merging his organization SFJ i.e. banned in India. Despite this, Canada termed Nijjar a Sikh activist and suspended a top Indian diplomat outlining his role in the killing of a 'wanted Khalistani terrorist'. Notably, India's External Affairs Ministry also issued a strong statement and totally denied the allegations of Canadian PM Trudeau. Now, the question arises who was Hardeep Singh Nijjar, and why did his death bring India and Canada to a potential standoff? Let's understand in detail-
Who was Hardeep Singh Nijjar?
Hardeep Singh Nijjar was shot dead by two armed men in Punjabi-dominated Surrey City of British Columbia province. Hardeep Nijjar was the president of Guru Nanak Sikh Gurdwara in Surrey. Nijjar, the chief of Khalistan Tiger Force (KTF) was also wanted by the Indian government due to his association with the separatist organisation, Sikhs For Justice (SFJ). SFJ was banned under the Unlawful Activities (Prevention) Act (UAPA) for anti-India activities by the government of India in 2019. Taking cognizance of his several terrorist activities in Punjab, the Indian government had earlier asked Canadian officials to take action against him. However, Canadian authorities remained mute spectators.
Due to his association with violent activities, the Indian government officially labelled him as a 'wanted terrorist.' Notably, Hardeep Singh Nijjar's name also featured among the 40 individuals designated as terrorists in the government's most recent release in 2020. Not only this, Indiua's central investigative agency, NIA had announced a reward of Rs 10 lakh for any information that could lead to the apprehension of Nijjar in 2022. This stringent action against him, aimed at curbing his violent activities in India, was initiated following allegations of his involvement in a conspiracy to assassinate a priest in Punjab, which resulted in the filing of a chargesheet against him. Despite these developments, Nijjar had managed to elude the authorities.
What Nijjar was accused of doing in India?
As per reports, Hardeep Nijjar was a wanted fugitive in multiple cases. He was allegedly involved in the 2007 explosion that resulted in six fatalities and 42 injuries in Ludhiana, Punjab. Furthermore, in 2010, the Punjab Police lodged a case against Nijjar, connecting him to a bomb blast near a temple in Patiala. Another wanted terrorist, Paramjit Singh Pamma, based in the UK, was identified as one of the primary suspects in that incident. A Look Out Circular (LOC) and a Red Corner Notice (RCN) were also issued against the Nijjar in 2015 and 2016.
What did Canada say about Hardeep Nijjar?
Addressing the parliament, the Canadian PM said, "Over the past number of weeks Canadian security agencies have been actively pursuing credible allegations of a potential link between agents of the government of India and the killing of a Canadian citizen, Hardeep Singh Nijjar....Any involvement of a foreign government in the killing of a Canadian citizen on Canadian soil is an unacceptable violation of our sovereignty."
"In the strongest possible terms I continue to urge the government of India to cooperate with Canada to get to the bottom of this matter," said Canada PM Justin Trudeau. It is pertinent to mention here that Trudeau informed the Canadian Parliament that he brought up the killing with Indian Prime Minister Narendra Modi at the G-20 last week. He said he told PM Modi that any Indian government involvement would be unacceptable and that he asked for cooperation in the investigation.
As of now, reports suggest that Public Safety Minister Dominic LeBlanc was quoted saying that Canada's national security adviser and the head of Canada's spy service have travelled to India to meet their counterparts and to confront the Indian intelligence agencies with the allegations.
Justin Trudeau believes that Indian agents killed Khalistan Tiger Force (KTF) chief Hardeep Singh Nijjar in Canada

Khalistani terrorist Nijjar was involved in targeted killings in India. He was shot dead by unidentified men in June

Now, Canadian PM is running Khalistan Movement pic.twitter.com/uEZEEliFw8

— Anshul Saxena (@AskAnshul) September 19, 2023
Why did Canada rake up the killing of Hardeep Nijjar?
As per reports, Canadian PM Trudeau has been losing his golden touch in his own nation. Unemployment, inflation, and higher taxation are among the many aspects that have contributed to the Canadian PM losing people's faith. It is obvious that the Canadian PM's movie to call out India on Nijjar's death will win him Sikh Voters which are reportedly in abundance in the country. As per a July 2023 report, the total population of Sikhs living in all other countries in the world is about 2.6 million, with 1.9 living in Canada, the US, the UK, and Canada combined.
India's response to Canada
Also Read: Khalistan outfit calls for Indian consulate 'shutdown' in Canada over Nijjar's killing: Report
India. MEA issued a strong statement and wrote, "We have seen and reject the statement of the Canadian Prime Minister in their Parliament, as also the statement by their Foreign Minister. Allegations of Government of India's involvement in any act of violence in Canada are absurd and motivated. Similar allegations were made by the Canadian Prime Minister to our Prime Minister, and were completely rejected.
"We are a democratic polity with a strong commitment to rule of law. Such unsubstantiated allegations seek to shift the focus from Khalistani terrorists and extremists, who have been provided shelter in Canada and continue to threaten India's sovereignty and territorial integrity. The inaction of the Canadian Government on this matter has been a long-standing and continuing concern. That Canadian political figures have openly expressed sympathy for such elements remains a matter of deep concern. The space given in Canada to a range of illegal activities including murders, human trafficking and organised crime is not new. We reject any attempts to connect Government of India to such developments. We urge the Government of Canada to take prompt and effective legal action against all anti-India elements operating from their soil."