Why do dogs lick their owner's face before going to sleep? Reason will melt your heart
Dogs have conversations with their owners through their gestures. It has been observed that many dogs lick their owner's face before going to sleep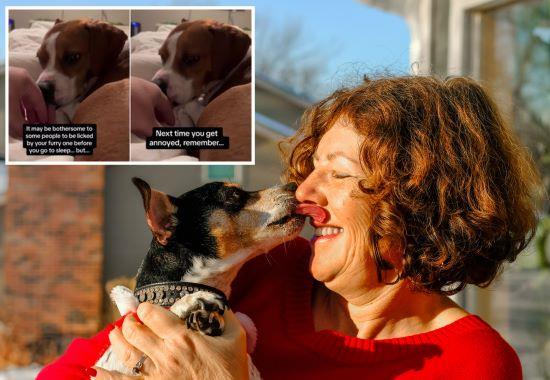 -

It is said that dogs are the best friends of humans if taken care of well. A drop of love for your dog is much more than care & affection given to another person. There are multiple times when famous personalities have stated that their dog's affection is way more than their relatives, families, or fans. For instance, former Team India cricket captain MS Dhoni in one of his interviews stated that his dogs treat him with affection always even though he gets out on 0 or even scores a hundred on the field. Dogs have conversations with their owners through their gestures. It has been observed that many dogs lick their owner's face before going to sleep. Now, a US media portal quoted a veterinarian who in her TikTok video opened up on why do dogs lick the face of their owners before going to sleep.

The report quoted @winston_thebeagle, Gabby, a veterinary technician from Indiana who posted a video on her TikTok explaining their 'furry friends' do it. As per Gabby, the act of licking "releases endorphins" that can help soothe a dog to sleep. She further mentioned that it also provides the pooch involved with a "sense of security" while also reminding them of "puppyhood" and being "groomed" by their moms. Gabby shared the video for the people who often gets annoyed by their dogs after they lick them before sleeping. As per the reports, Gabby is the owner of Beagle named Winston. Winton was adopted by Gabby when he was 5 years old. "Winston is a 5-year-old beagle bulldog mix and I adopted him when he was 8 weeks old," Gabby was quoted by a newsportal.

Notably, a survey of 2,000 U.S. pet owners conducted by OnePoll revealed that 72 percent of pet owners said having a pet helped them to reduce stress, anxiety, and depression, while a further 62 percent were inspired to exercise more through having a four-legged friend. Gabby further informed why she uploaded a video of her dog explaining their habit of licking. She said, "I thought the video was cute and was always curious as to why dogs do that. Then I realized over time after working in the field why dogs do that with their owners or the ones they love and it's because it releases endorphins which is very calming for dogs."

The Suite Life of Zack & Cody fame-actor Dylan Sprouse gets married to Barbara Palvin; See Wedding Pics

Another report suggest that dogs read our gestures, like pointing, better than any other animal. The report also explained the meaning of the gestures shown by the dogs. For example- Flicking a toy means your dog holds a toy in his mouth and throws it forward toward you, he wants something to eat or drink. Another example is rolling over. It means your canine friend wants scratches and is using body language to direct petting towards his belly.