Published On
Why is it important for security agencies to nab Amritpal Singh alive?
A senior Ex-Police officer has cited various reasons behind why is it necessary to arrest Amritpal Singh alive Author :
Guneet kaur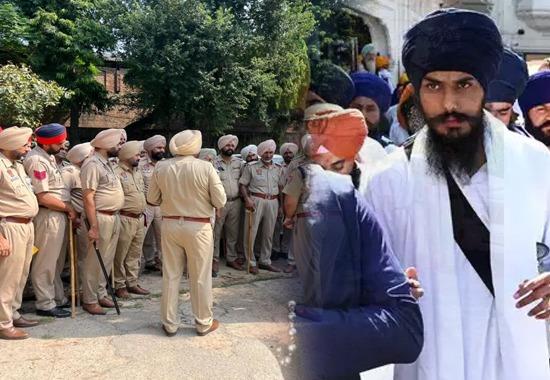 Waris Punjab De Chief Amritpal Singh's manhunt has entered day 5 and still, Punjab Police has still not been able to nab the 'fugitive' pro-Khalistan leader. However, multiple developments in Amritpal Singh's crackdown are reported on a daily basis. The latest development that has come up is that Punjab Police found the bike on which Amritpal Singh escaped from Nangal Ambia Gurudwara. A CCTV went viral on Tuesday where Amritpal Singh went to Nangal Ambia gurudwara, changed his clothes and then escaped from there along with his 3 other associates. Reportedly, Amritpal Singh's bike was found near Darapur Village, Jalandhar. Punjab Police and other central agencies are trying to nab Amritpal Singh and most importantly they are trying to find him alive. So, the question rises why is it necessary to nab Waris Punjab De Chief Amritpal Singh alive.
A senior Ex-Police officer spoke to True Scoop and gave an insight into why is it important to nab Amritpal Singh alive.
Why is it important to find Amritpal Singh alive?
Finding Amritpal Singh alive is that it is very important for Central Agencies. This is for the very first time that two largest opposition parties i.e. AAP and BJP have come together in the crackdown against Amritpal Singh. Not only this but for the very first time in Punjab's Vidhan Sabha Session CM Mann received support from BJP's state President. Amritpal Singh was the person whose main aim was to build Khalistan in India. He is the person to start Khalistan movement in country and it's a big challenge for Punjab Police as well as Central Agencies to arrest him alive.
According to sources, ISI is likely to kill Amritpal Singh after his relations with the Pakistani agency got disclosed during the investigation. ISI might try to kill Amritpal Singh in order to send a wrong message to the Sikh community outside India. To stop this, it's very important to catch Pro-Khalistan leader alive. Post the crackdown against Amritpal Singh, various Sikh communities outside India and ever the founder of Khalsa Aid have gone against India saying that officials are arresting innocent Sikh people.
If Amritpal Singh is by chance killed by Pakistan's ISI or any other agency then it would be a great loss of the central as well as state government. There were various revelations that were made during Amritpal Singh's investigation. It was alleged that he had links with ISI, took training from the Pakistan-based agency and was receiving funds from the same. ISI might now try to kill Amritpal Singh so that he does not reveal any inside information about them which can act as a big problem for them. If he gets killed then the government will never be able to get information about the questions that have surfaced regarding his relations with ISI.
Also, till now no investigation has been done with Daljit Singh Kalsi who is known to take care of all finances of Amritpal Singh. IGP Sukhchain Singh Gill stated in a press conference that till now Daljit Kalsi has not been interrogated about the funds Amritpal was allegedly receiving from ISI.
Amritpal Singh's arrest will give answer to some major questions
1. What was the main motive behind forming AKF i.e. Anandpur Khalsa Force?
2. Why was ISI contacting him on regular basis?
3. From where was he receiving funds to buy cars and purchase weapons?
4. Did he take any training from ISI?