Published On
Why is Jalandhar Lok Sabha By-Election the most significant challenge & ultimate test for AAP?
From AAP the ticket might be either given to Kartarpur's MLA Balkaur Singh or Jalandhar MLA Sheetal Angural. Author :
Guneet kaur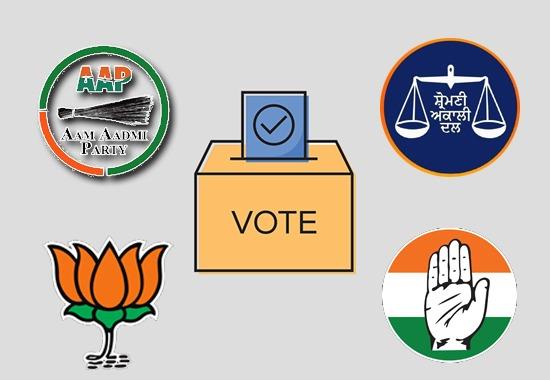 Post the sudden demise of Jalandhar MP Santokh Singh Chaudhary, the announcement of the Jalandhar Lok Sabha election can be done anytime soon by the Election Commission. All the political parties- Congress, Aam Aadmi Party, Bhartiya Janta Party, and Shiromani Akali Dal have started to choose the leader to represent them for the same and are preparing to put the strongest face to contest the by-election.
In an overview, it is possible that Congress might give the ticket to MP Santokh Singh Chaudhary's wife Karamjit Kaur. There is also a possibility that Shiromani Akali Dal (SAD) which has always given a tough fight in the election and was in second place during last elections might give up a seat for their alliance party BSP. From the data available on Jalandhar Lok Sabha Elections, Dalit community is regarded as the highest vote and has always been a deciding factor on who will win the elections.
In the previous elections that took place in 2019, Congress MP Santokh Singh Chaudhary won the elections with 37.84% of the total votes. While Shiromani Akali Dal's leader Charanjit Singh Atwal was at second place with 35.93% of votes. Balwinder Kumar from BSP was in the 3rd place with 20.09% of votes. AAP also fought in the elections but could only gather a mere 2.5% of the total votes. In 2019 the votes received by Shiromani Akali Dal were mainly the BJP votes of the state. In 2014, which is considered AAP's first Jalandhar Lok Sabha Election, their party member Jyoti Mann was in third place with 16.38% of votes.
As per the Congress sources, if the ticket of elections is given to MP Santokh Singh Chaudhary's wife then there are chances for the party to get sympathy votes and also, he has always been one of the biggest Dalit faces in Jalandhar Lok Sabha Elections. Another name that is coming up is Adampur's MLA Sukhwinder Singh Kotli who earlier in the year 2014 fought elections from BSP. There are speculations that this time Congress is not in favor of taking risks so they might not give the ticket to Adampur's MLA or even to Santokh Singh Chaudhary's son Vikramjit Chaudhary.
This year will see a tough fight between AAP and Congress as out of 9 Vidhan Sabha constituencies, 5 are of Congress and 4 belong to AAP. Talking about AAP contenders, the ticket might be either given to Kartarpur's MLA Balkaur Singh or Jalandhar MLA Sheetal Angural.
As per sources, there is one former police official who has shown keen interest to get a ticket from Aam Aadmi Party.
Talking about BJP, this party is going to fight elections single-handedly after a really long time. BJP will be taking part in the Jalandhar Lok Sabha elections without any alliance after almost 27 years. BJP for the time being has two names for ticket, one is of SC Commission Chairman Vijay Sapla and General Secretory Rajesh Bagga. These two are the big faces of the Dalit Community. BJP sources have also revealed that there are chances that the party might invite other party's dalit faces to join them.
Jalandhar Lok Sabha Election is the biggest challenge and ultimate test for Aam Aadmi Party. There are many issues that can be obstacles for the party in winning elections. One of the main issues is the Latifpura demolition, although government is trying its best to resolve the issue but still it has not reached to any conclusion. Also, it is a big challenge for AAP to win this election because after coming to power lost the byelection in Sangrur from Shiromani Akali Dal's Simranjit Singh Mann. If somehow AAP loses Jalandhar Lok Sabha Elections then if can have a serious impact on Arvind Kejriwal in upcoming PM elections.