Published On
Why Rihanna won't be paid for her 'Super Bowl 2023' halftime performance? Here's what you must know
Super Bowl 2023 halftime event will mark Rihanna's return to the grand stage to perform live after 7 years break Author :
Sukhdev Singh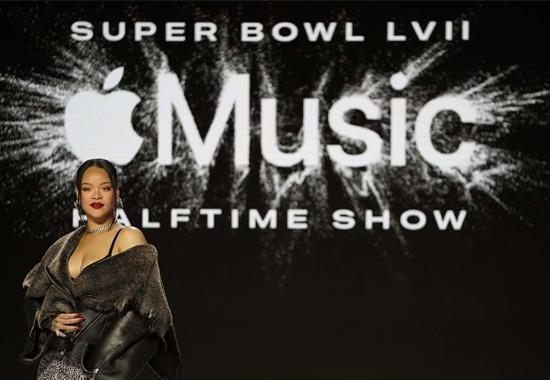 The stage is all set to present the world with the most iconic battle in American sports, the Super Bowl, which will go live in less than a day on featuring the champions of AFC vs NFC.
For the 57th edition, Philadelphia Eagles are up against Kansas City Chiefs to add up their super bowl title wins. However, alongside that, the other major event that has made the headline at par with the main event is its halftime show featuring pop star Rihanna who is making a return to the live stage after a long hiatus of 7 years.
Since her 2016 album 'Anti', the artist has been scarce in the live performance scene, especially in the past two decades. While speaking with the media about the upcoming performance at the Super Bowl halftime show during the Apple Music press conference on Thursday, Rihanna emphasised that "The Super Bowl is one of the biggest stages in the world."
However, what is more, pertinent to mention here is that the star pop singer won't be paid to perform at the grand event. The reason being it is customary for the halftime headliners.
Even though A-listers such as other pop stars Beyonce, Bruno Mars, and Justin Timberlake don't get paid, the Super Bowl show provides massive benefits like exposure to a huge audience. As per reports, the number of viewers this year is expected to top 192 million.
Where to watch Super Bowl 2023 for 'FREE': Kick-off time, TV channel, app, and more
Taking instances from the past, stars like Lady Gaga have recorded massive album sales in the aftermath of her Super Bowl show, Rihanna's upcoming performance is seen as her chance to return to her music roots and reconnect with the audience after spending several years away. She already enjoys a cumulative followership of nearly 250 million on Twitter and Instagram.
It is also essential to mention here that Apple Music, the NFL and Roc Nation will be teaming up for the first time for the Super Bowl 2023 show, these concerts have high production costs. Based on the reports, The Weekend spent $7 million from the pocket for the halftime event at the Super Bowl back in 2021.
Although it remains unclear, as of now whether Rihanna will be spending her own money on the upcoming grand event or not. The pop star also noted that it was "scary" as she has remained out of action for 7 straight years.
She further added, "there's something exhilarating about the challenge of it all" and that It's important" for her to do that this year and she wants her son to watch the same. Rihanna is marking her return just months later after giving birth to her first child with boyfriend A$AP Rocky in May 2022.