Published On
"Bacteria and Viruses are active at this time due to which children easily catch viral," says Dr. Nikhar
Dr. Nikhar Mahajan is among the finest Paediatricians in the city and is known for offering excellent patient care.
Author :
Priyanka Vinayak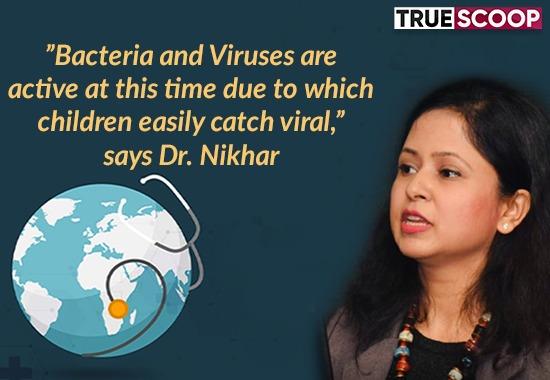 Every year, April 7 is celebrated as World Health Day. It is a global health awareness day that aims to create awareness of a specific health theme to highlight a priority area of concern for the World Health Organization. 7th April is also the foundation day of the World Health Organization, thus, World Health Day also marks the foundation day of WHO.
On the occasion of World Health Day, to raise awareness about various health issues, True Scoop held an exclusive telephonic interview with Dr. Nikhar Mahajan. Among the finest Paediatricians in the city, Dr. Nikhar Mahajan (Tagore Hospital & Heart Care Centre) is known for offering excellent patient care.
Here are some interesting answers given by Dr. Nikhar Mahajan during the interview:
Q. Enlighten us on the common illnesses among children these days and how they can be avoided. How can kids increase their immunity?
Dr. Nikhar: During these months, especially when the weather is changing, a lot of health issues occur like dehydration and sun-stroke. Also, skin issues are common these days. Bacteria and Viruses are active at this time due to which children easily catch viral, cold, fever, conjunctivitis and swimmers' ears. Along with this, food poisoning, diarrhoea, and allergies like asthma, are quite common.
To stay safe, do the following:
1. Try to take a lot of water or consume drinks like coconut water, shikanjvi, lassi, chaas, etc.
2. Avoid eating from street vendors.
3. Take care of the child's hygiene.
4. Take a bath every day and wear cotton clothes.
5. Moreover, to increase immunity, take a balanced diet, rich in carbohydrates, proteins, vitamins and minerals. Try to avoid fatty food items. You can also consult your doctor and give multivitamins to your kids.
6. Also, don't forget to give a flu shot i.e., an injection of influenza to improve the child's immunity.
7. Exercise and physical activity should be done regularly.
Q. With vaccines and booster shots, Covid seems almost over for adults. What about infants and toddlers who don't have an approved vaccine yet? Do you think they are still at risk?
Dr. Nikhar: After the last Omicron wave, and the proper vaccination process being carried out in the country, it looks like the epidemic is ending. The total number of cases are declining. So, Covid is coming to an end. But, Corona Virus keeps on mutating. As it changes forms, it brings more fear. Third-wave was quite mild and people have developed herd immunity. Luckily, the vaccination drive is being carried out well so, soon toddlers will also get vaccinated in the future.
Q. The kids who got Covid in the recent wave; how badly do you think their immune system was affected? Do you think they are more likely to develop diseases due to this later in life?
Dr. Nikhar: I feel that people with low immunity were at more risk. After the second wave, some kids did have post-Covid complications, like MIS-C, some organs and tissues — such as the heart, lungs, blood vessels, kidneys, digestive system, brain, skin or eyes — become severely inflamed. Children who were recovering still showed symptoms - fever, body ache, joint pain, muscle pain, and fatigue. But after the third wave, it was very less. Children recovered very fast post-Covid, which is a good sign.
This insightful interview with Dr. Nikhar pointed out some critical hygiene tips for kids as well as how to appropriately care for them when the weather is changing.