Published On
"Egg freezing is especially useful for females who are choosing to marry late or suffering from Cancer," says Dr. Ruche Bhargava
Dr. Ruche Bhargava is an adept Obstetrician and Gynaecologist; she is renowned for effectively dealing with complicated cases.
Author :
Priyanka Vinayak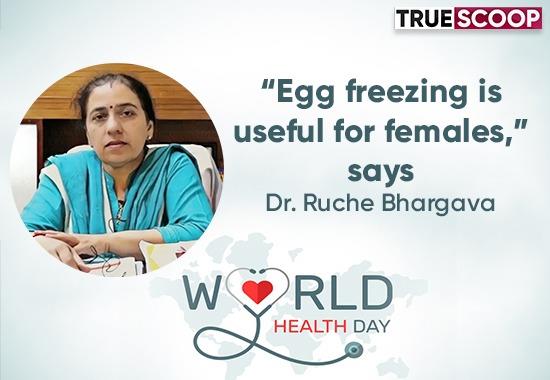 World Health Day is celebrated annually on April 7 to reimagine a world where clean air, water and food are available to all, where economies are focused on health and well-being, where cities are liveable and people have control over their health and the health of the planet. 7th April is also the foundation day of the World Health Organization, thus, World Health Day also marks the foundation day of WHO.
To raise further awareness among our readers, True Scoop held an exclusive telephonic interview with Dr. Ruche Bhargava of Bhargava Advanced Gyne Surgery Cancer Center; she is one of the most proficient practitioners in town.
Here are some interesting answers by Dr. Bhargava on Infertility, IVF and other women related health concerns:
Q. Breast Cancer has become increasingly common today. Do you think we're doing something wrong as a community?
Dr. Ruche: Our lifestyles, lack of exercise and eating habits are mainly responsible for it. We are consuming more junk and preservative food. To cater to this problem, we must eat good home-cooked food and we must exercise at least 150 minutes per week.
Q. Infertility & IVF cases are increasing. Why? Also till what age is a test tube baby possible?
Dr. Ruche: Nowadays, Infertility is increasing. Some of its common reasons are:
1. Late marriage: The fertility capacity of a female decreases with age.
2. Delayed conception: People, if they are getting married they want to delay conception due to career option.
3. Hormonal problems: Hormonal issues like Polycystic Ovaries are very common due to sedentary lifestyles and eating habits.
Talking about the age till which a test-tube baby is possible, I don't want to comment on that. People at the age of 60 are also having a baby. It is a very debatable issue whether having a baby at 60 is justified or not, considering what your life expectancy is going to be and if you can raise a baby at that age.
Q. More people are aware of egg freezing and are opting for it. Does it come with its cons?
Dr. Ruche: No, it does not come with any cons. It is especially useful in cases where females are choosing to get married late or planning a baby late. But, it is also being misused in a sense that people are taking it as an option - I should freeze my eggs first and can get married later.
It is also advantageous for people who are having Cancer because they have to undergo Chemotherapy.
But, it should not be taken as the first option. As I said, I don't think it has any disadvantages but, yes, it's quite a costly process.
Q. Do you think women are more prone to mental health problems in India?
Dr. Ruche: Yes, because we still live in a male-dominant society. Though we are working today, still many women are homemakers. They don't have anyone to share their feelings, emotions, or thought processes. The household work pressure is there. The pressure to raise the family is there. Female is the center of the family, she has to do everything for the family. Due to this, they are overburdened with mental and physical work. They are more restricted to their homes and family, thus, are more prone to mental health problems.
Dr. Ruche's insights on Women's Health bring forth some important challenges and areas of working. They also highlight many opportunities, with the advancement of medicine, that have introduced options that were not readily available before.