Yamaha YZF-R3 and MT-03 launch date, price, rivals & everything you need to know
Powerful 321cc Engines, Track-Tested Performance, and Expected ₹3 Lakh Price Tag – Yamaha's Latest Sports Bikes Ready to Hit Indian Roads.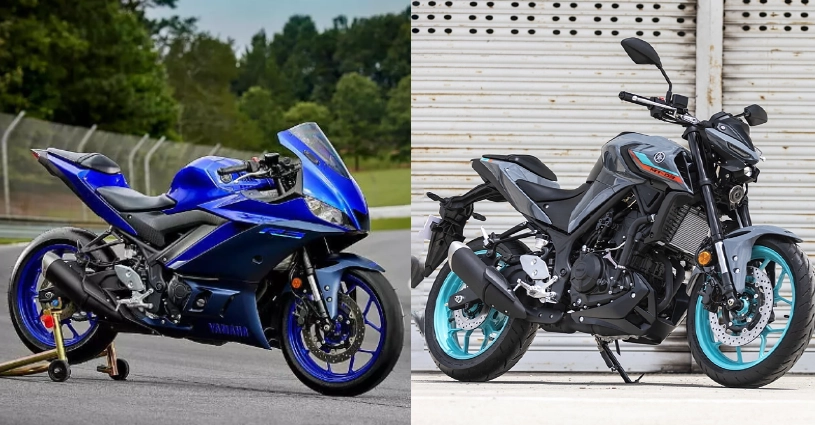 -

Japanese two-wheeler giant Yamaha recently announced the launch date of its highly anticipated sports bikes, the 'Yamaha YZF-R3' and 'Yamaha MT-03'. The official confirmation has been made by Yamaha through its website and various social media platforms, creating waves of excitement among biking aficionados.

Yamaha YZF-R3 and Yamaha MT-03 were initially showcased at the Madras International Circuit and later at the Buddha International Circuit (BRC) in Greater Noida. They have been eagerly awaited since their debut, and the official launch date adds to the anticipation. Yamaha has consistently been a trailblazer in the motorcycle industry, known for combining cutting-edge technology with stylish design, and the YZF-R3 and MT-03 are expected to be no exception.
Yamaha YZF-R3 and Yamaha MT-03 launch date
Yamaha YZF-R3 and Yamaha MT-03 will be launched for the general public on December 15, 2023. The new Yamaha R3 is expected to be launched at Rs 4 lakh, and the Yamaha MT-03 is expected to launch at Rs 3.80. Both the Yamaha bikes will reportedly rival KTM 390, Kawasaki Ninja 300, and Triumph Speed 400.
One of the most enticing features of these upcoming models is the robust 321cc parallel-twin, liquid-cooled engine that promises a dynamic and responsive performance on the roads. Yamaha has a history of delivering bikes that not only excel in power but also in maneuverability, making them suitable for both seasoned riders and those looking to enter the world of sports biking.
Yamaha introduced a sneak peek of the YZF-R3 and MT-03 at prominent racing circuits, emphasizing their prowess not just on city streets but also on challenging tracks. The Madras International Circuit and the Buddha International Circuit served as the perfect stages to highlight the bikes' capabilities, creating a buzz among biking enthusiasts who are eagerly awaiting the chance to experience these machines firsthand.
The launch of these two bikes signals Yamaha's continuous efforts to redefine the riding experience for Indian bikers. With a legacy of manufacturing high-performance machines, Yamaha aims to set new benchmarks in the sports biking segment. The YZF-R3 and MT-03 are poised to become sought-after choices for riders seeking a perfect blend of power, style, and innovation.
In the highly competitive Indian motorcycle market, the Yamaha YZF-R3 and MT-03 will face competition from other players in the same segment. However, Yamaha's reputation for delivering reliable and performance-driven bikes is expected to create a niche for these models among biking enthusiasts.
As the launch date approaches, the biking community eagerly awaits the unveiling of Yamaha's latest offerings, anticipating a new era of exhilarating rides on the YZF-R3 and MT-03. The bikes' success in the market is poised to not only strengthen Yamaha's position but also contribute to the growing passion for sports biking in India.