Published On
After establishing his name globally, Blind Cricketer Tajinder Singh still looking for recognition in own country
Tajinder Singh is the only player in Punjab's team in blind cricket and he has played for India till the World Cup.
Author :
Priyanka Vinayak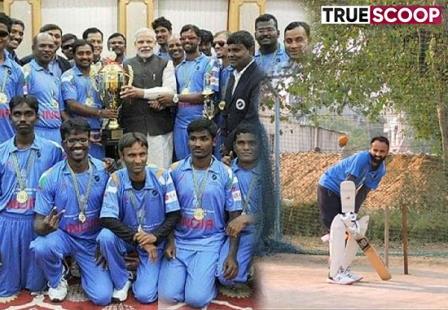 The craze for Cricket in India is huge, and we consider cricketers as our role models. Many cricket fans in India spend hours in front of the television watching a cricket match. Some players are given a lot of respect, while some have to struggle for it. One such player is Tajinder Pal Singh, a blind cricketer from Jalandhar. He is the only player in Punjab's team in blind cricket and he has played for India till the World Cup, but despite that, he is not being helped by the government.
In an exclusive interview with Tajinder Singh, he said that he was only 8 years old when he lost his eye due to an accident. But he had a passion for playing which he did not lose, on the basis of which he went to Dehradun, where he learned to play blind cricket and learned how to play pop cricket in ordinary cricket, just like blind cricket.
"It is like normal cricket but underarm bowling is done in it and there are 3 stages in the players. Cricket is fed by keeping the player who has the kind of vision in that stage. Talking about the rules of cricket, it is a little different from international cricket, but in this too, he practices and works hard," he added.
Taking about his situation in house, he said he has not been helped in any way by the government so far, whenever he has gone to the government with his file, he is sent back with some excuse or the other. Now he is living in his house by doing a small job.
"I have players from other states as well, their governments have given them either jobs or money so that they can live their lives comfortably and in the same way can illuminate the name of the country, but the Punjab government Hasn't provided any help yet. In the end, I want to appeal, the Punjab government is talking about making sports industry in Jalandhar, but first they should also pay attention to those players who are serving the country and have become anonymous," said Tajinder.
Watch Video: