Published On
10th May last date for 9760 posts, apply for senior teacher post in 7 subjects, selection through interview
Youth between the age of 18 and 40 will be eligible to apply for the Rajasthan Public Service Commission's recruitment
Author :
Nishtha Jairath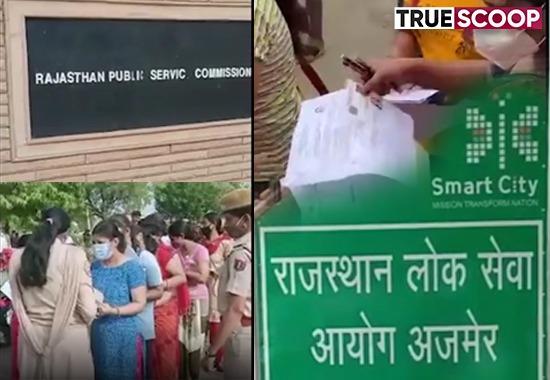 Tomorrow is the last day to apply online for the Rajasthan Public Service Commission's recruitment of 9760 Senior Teachers of the Secondary Education Department. This recruiting will take place in a variety of subjects. Youths between the ages of 18 and 40 (as of January 1, 2023) will be eligible to apply. The applicant will be chosen through an examination. All inquiries will be objective in nature. The exam location and date will be announced later.
The procedure to apply:
To apply online, candidates must visit the Commission's website at
https://rpsc.rajasthan.gov.in
/ or S.S.O. You must sign in using the gateway https://rajasthan.gov.in/. One-time registration (OTR) is required by selecting the recruiting portal from the Citizen App (G2C).
To complete the One Time Registration (OTR) process for the first time, the candidate's name, father's name, date of birth, gender, secondary/equivalent examination, and any one of the Aadhar Card / PAN Card / Voter Card / Driving License ID must be entered. D. Proof information must be entered. Document uploading will also be required. After completing the online examination form, the candidate must make an online payment over the web. It is necessary to generate the application ID.
No later changes will be possible:
The OTR profile will comprise the candidate's name, father's name, date of birth, gender, secondary/equivalent examination data, and Aadhar card/ PAN card/ voter card/ driving license id after one-time registration. In the details, no changes will be possible.
The examination fee:
· Rs.350 for the general (unreserved) category application and the other backward class / most backward class candidate of Rajasthan's creamy layer category.
· Rs.250 for Rajasthan's Other Backward Classes/Most Backward Classes and Economically Weaker Sections of the Non-Creamy Layer Category.
· Rs.150 for applicants with disabilities, from Rajasthan's Scheduled Caste and Scheduled Tribe categories, with a household income of fewer than 2.50 lakhs.
· Rs.150 for candidates belonging to the Scheduled Castes / Scheduled Tribes of the TSP region and Saharia tribals from all tehsils in the Baran district.
Also Read: Jalandhar: 78 robberies were reported in 38 days, with victims losing 2.80 crore rupees and much more
The number of posts for different subjects: