Published On
Know the 5 big decisions taken by Punjab Cabinet during the meeting
The Punjab government had a meeting on Monday and took major decisions.
Author :
Priyanka Vinayak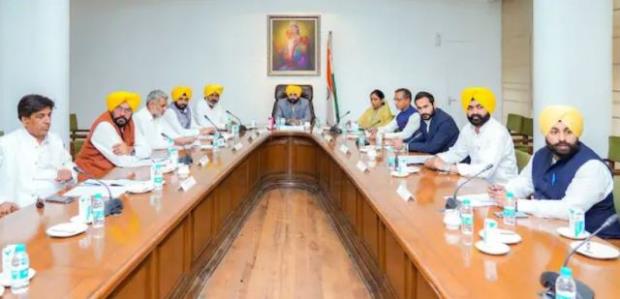 The Punjab Cabinet, led by Chief Minister Bhagwant Mann on Monday announced several major decisions. The announcements were made on the official social media handles of the Punjab CM today, May 2, 2022.
Here are the 5 big announcements made by Punjab Cabinet:
· Approval of 26454 posts of various departments
· Approval of One MLA, One Pension Scheme
· Approval of door-to-door ration delivery scheme (Flour option from 1st October)
· 41.89 crore compensation sanctioned for cotton crop failure in Muktsar district
38.08 crore - For farmers
03.81 crore - for farm laborers
· For small transporters, the time limit for submission of fees has been extended to 3 months.
Earlier, the Punjab government had a meeting on Saturday (April 30), and announced a subsidy of Rs 1,500 per acre for direct sowing of paddy. In a video message Bhagwant Mann while giving a clarion call to the farmers asked them to bring more agricultural land under direct sowing of paddy instead of the traditional paddy transplantation. The Chief Minister further said that farmers could start the direct sowing of rice from May 20, 2022. Bhagwant Mann also mentioned that Punjab Government would not only provide Rs. 1500 per acre financial help to farmers implementing direct paddy sowing in their fields but the Agriculture Department would also extend requisite cooperation and support for the same.