Published On
5.5 Magnitude Earthquake hits Northern California, Authorities assessing possible damage
A 5.5 magnitude earthquake hit Northern California, shaking the northern half of the state, with authorities assessing potential damage and urging residents to be prepared for aftershocks. Author :
Malkit Singh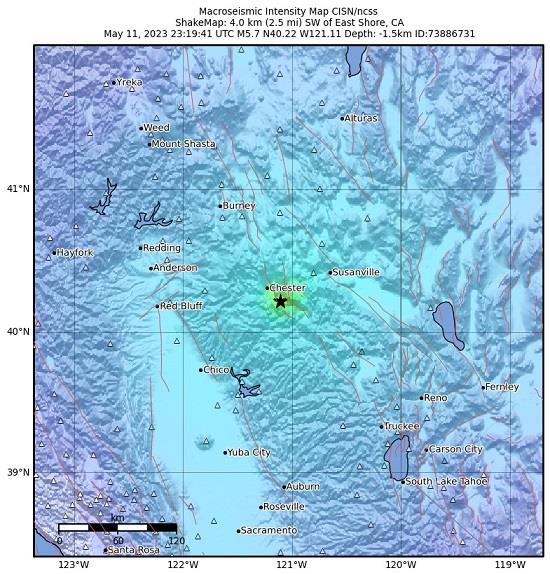 On Thursday afternoon, a 5.5 magnitude earthquake hit Northern California, causing shaking felt across the northern half of the state and as far south as Sacramento. The epicenter of the quake was near the southern half of Lake Almanor, just northeast of Sacramento. Although no major damages have been reported, authorities warn that earthquakes of this size have the potential to cause structural damage in the vicinity of the epicenter.
Residents in the affected areas felt the shaking, which extended to the Pacific coast, parts of the Bay Area, and even portions of Nevada. However, there is no tsunami warning or threat associated with the earthquake, as confirmed by the National Oceanic and Atmospheric Administration.
The Governor's Office of Emergency Services is collaborating with local first responders to assess any damages and provide assistance to affected communities. They urge residents to remain prepared for aftershocks and to check on vulnerable neighbors.
Why Tesla is recalling 1.1 million cars in China? Check model name and number
Following the initial earthquake, a series of aftershocks rattled the same region. The strongest aftershock recorded had a magnitude of 3.0, according to the USGS.
The impact of the earthquake was also felt by the California Highway Patrol, as the agency's Chico dispatch center experienced disruptions, leading to the temporary unavailability of 911 lines. Individuals in the region are advised to contact 530-332-1200 in case of emergencies.
Authorities continue to monitor the situation and provide updates as necessary. This serves as a reminder for residents in earthquake-prone areas to be prepared and take necessary precautions to ensure their safety during such events.