Published On
World Record: Who is Gursanj Singh? 21 months old kid from Punjab, Achievement beyond Age and Intelligence
With parental guidance and support, gursanj is able to outperform his skills and ablities . He is breaking records at International level. Author :
Sukhmani Kaur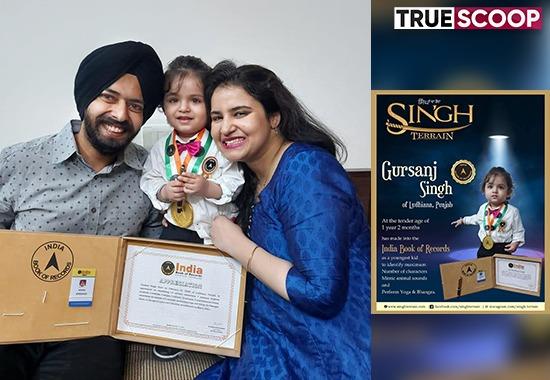 Gursanj Singh (born on February 19, 2020) of Ludhiana, Punjab, is appreciated for identifying 14 cartoon characters, 7 personal hygiene products, 3 vehicles, 3 shapes, 2 colours, 19 animals, 5 miscellaneous items; mimicking the sounds of 5 animals; performing yoga and doing the Bhangra dance, at the age of 1 year and 2 months, as confirmed on May 4, 2021.
The World Record of "YOUNGEST KID TO IDENTIFY MAXIMUM NUMBER OF ITEMS" is achieved by GURSANJ SINGH on 13th May 2021 from Ludhiana (Punjab) India. 1 year 3 months old Gursanj identified 71 items. He identifies cartoon characters, personal & hygiene products, vehicles, shapes, colors, animals and other miscellaneous things and has set a new world record for International Book of Records.
Also Read: IMA urges the Union Health Minister to reschedule 21st May Examination.
Talking to Deepinder Singh, Father of Gursanj Singh says that he is exploring other avenues as well to recognize his son's talent. He is showing interest in identifying different forms of transport such as Jeeps and Cars.
My son Gursanj Singh (21months old) has set an another world record. Earlier at the age of 14 months he made a record in India Book of records and a world record in International Book of records and now he made a world record in KALAM's WORLD RECORD.