After customized Raghav-named dupatta, Parineeti's wedding Kaleeras become a sweet ode to her love story with Raghav
Parineeti and Raghav's nuptials unveil custom Kaleeras celebrating their unique love story.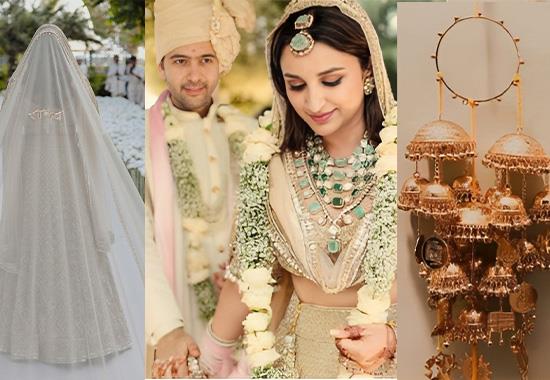 -

In the union of actress Parineeti Chopra and politician Raghav Chadha, it's the small details that take center stage. The couple, who recently tied the knot in a grand destination wedding in Udaipur on September 24th, chose to embrace the significance of these moments, weaving them seamlessly into their bridal narrative.

A Glorious union

With the much-anticipated wedding now concluded, Parineeti and Raghav Chadha have officially become Mr. and Mrs. Chadha. The couple delighted fans by unveiling their enchanting wedding photographs, showcasing a pastel-themed wedding adorned with Parineeti's exquisite Manish Malhotra lehenga. A masterpiece that demanded an astounding 2500 hours of craftsmanship.

Celebrating love's details

Delving into the intricacies of their special day, it's evident that every detail was thoughtfully curated. Among the personalized touches, Parineeti's wedding kaleeras stand out as a testament to their unique love story.

Just like her bridal dupatta, adorned with Raghav's name, Parineeti's customized 'kaleeras,' designed by Mrinalini Chandra, serve as an embodiment of their love. On September 25, 2023, Mrinalini Chandra took to Instagram to share the significance of Parineeti's kaleeras.

The accessory features elements drawn from Parineeti and Raghav's love story, including their initials, the symbols of Ek Onkar and Om, a London phone booth (marking their serendipitous meeting in London), and musical instruments, a shared passion.

Notably, the 'kaleeras' even pay homage to a significant breakfast date, featuring charms of coffee, croissants, strawberry muffins, pancakes, and eggs that the couple savored.

Also Read: RagNeeti makes a Grand debut: First public appearance as husband and wife; Watch

A love tale in ornaments

Describing the kaleeras, Mrinalini Chandra expressed, "The 'kaleeras' Parineeti wore featured several special motifs, like a London phone booth (London is where they met), their initials, religious charms like 'Ek Onkar,' 'Waheguruji,' and 'Om' (as an ode to their spiritual beliefs) and musical instruments as they both share an immense love for music."
She further elaborated, "One breakfast that sparked a life-sharing journey' also found a special place in Parineeti's kaleeras as it featured the charms of coffee, a croissant, a strawberry muffin, pancakes and eggs they relished on the special breakfast date."
Sharing the images on Instagram, she added, "At first glance, the kaleeras may seem like a bunch of dainty ornaments cascading from a bangle. However, their true beauty lies in the underlying story they convey - a tale of love."
"The design of these 'kaleeras' is very special. Each motif represents a moment of serendipity, a chance encounter when their paths cross in a cosmic dance," she concluded.
Mrinalini Chandra, renowned for designing custom-made kaleeras, has crafted these unique pieces not only for Parineeti Chopra but also for a roster of celebrities including Sonam Kapoor, Katrina Kaif, Alia Bhatt, and Parineeti's own sister, Priyanka Chopra.
In the union of Parineeti and Raghav, every detail tells a story, and their wedding kaleeras stand as a touching tribute to their extraordinary love journey.