Published On
Agnipath Protest: Elderly couple narrowly escape mob's stone-pelting in horrific video; Watch
Amidst the Agnipath protest chaos, an elderly couple was nearly stoned by an angry mob who were stone pelting the police forces
Author :
Malkit Singh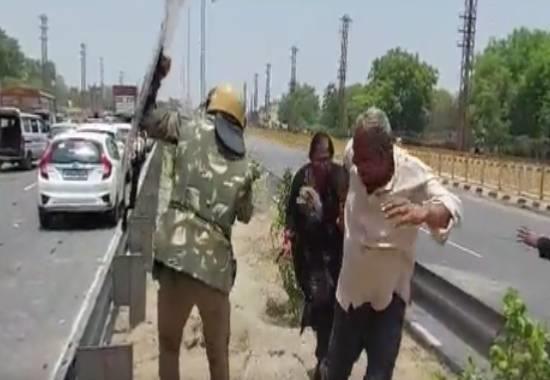 As India was recovering from the law and order situation over Nupur Sharma's Prophet Mohammed remarks, the nation is yet again has been engulfed in violence and protests. The
Agnipath
or 'Tour of Duty' Scheme has enraged the students and as a result, violent protest has been spreading nationwide. The anger of the Angipath scheme is such that students have torched trains on fire in multiple states and stone-pelting has also been reported. Now, the Agnipath scheme protest elderly couple viral video has been doing rounds on social media.
With the protest spreading across India over the Agnipath Schemes, various videos have been going viral showing how the protestors have taken the laws into their own hands. Amidst the chaos, an elderly couple was nearly stoned by an angry mob who were stone pelting the police forces. The Agnipath protest elderly couple viral video shows, police personnel using his shield in order to save the elderly couple who were caught in the middle of the stone-pelting. Seeing the video, it can be said that the elderly couple might have been seriously injured if the police personnel was not there.
Watch Agnipath Protest elderly couple viral video
About Agnipath scheme
For the unversed, on June 14, the government of India announced the Agnipath scheme for youth to serve in the three services. Students aged between 17.5 and 21 years will serve in the force for a period of four years, following which 25% of the Agniveers will be retained for regular service. The Apnipath scheme has been launched by the government to bring a change in the enrollment of soldiers.
Chief Ministers of several states, including Assam and Haryana, have said that Agniveers will avail preference when it comes to recruitment for state government jobs or police recruitment. Home Minister Amit Shah has also announced that Agniveers will get preference for employment in central paramilitary forces.