Alia Bhatt got trolled: Chewing Gum during conversation with Thai Actress Davika Hoorne; Netizens label her Mannerless
Despite stellar career, Alia Bhatt's casual gesture sparks online criticism.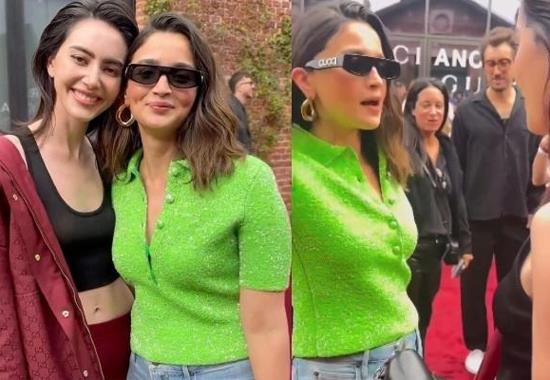 -

In recent years, Alia Bhatt has emerged as a powerhouse in Indian cinema, captivating audiences with her exceptional talent and versatility.

With a string of successful films, including her latest Hindi blockbuster, "Rocky Aur Rani Kii Prem Kahani," and her Hollywood debut alongside Gal Gadot in "Heart Of Stone," she has firmly established herself as the ultimate rising star of the Indian film industry.

However, even with her remarkable achievements, Alia is not immune to the world of incessant trolling.

A Fashionable Affair: Milan Fashion Week

Alia Bhatt, who proudly represents Gucci as a global brand ambassador, made headlines when she graced Milan Fashion Week for the Gucci Ancora show.

The event was a celebration of high fashion and sophistication, and Alia's presence added a touch of star power to the glamorous occasion.

Her ensemble for the event was nothing short of stunning – a vibrant fluorescent green top paired with chic light blue bell bottoms.

To complete her look, she wore light and radiant makeup, and her attire was accentuated by a pair of exquisite gold enamel earrings and stylish Gucci black sunglasses.

The Controversial Gum-Chewing Incident

Also Read: Decoding Parineeti Chopra's bridal & Raghav Chadha's groom look in their marriage pics View this post on Instagram A post shared by Vogue Thailand (@voguethailand)

While Milan Fashion Week is known for its elegance and grace, a video from the event involving Alia Bhatt took an unexpected turn.

In the footage that quickly went viral on the internet, Alia was seen engaging in a lively conversation with Thai actress Devika Hoorne.
However, it was Alia's seemingly casual act of chewing gum during the conversation that ignited a storm of controversy.
Netizens Express Their Disapproval
The world of social media is unforgiving, and opinions spread rapidly. Netizens were quick to voice their disapproval of Alia's gum-chewing behavior.
One user criticized her, saying, "She's really thinking she's at some college festival, dressed like that and chewing gum." Another commented, "Chewing while talking – this woman has no dignity or manners," and a third added, "Chewing while talking to someone – when is she going to learn manners?"
An Unseen Equation
In the midst of this online backlash, it's important to remember that public figures like Alia Bhatt are constantly under the watchful eye of the internet. While opinions may vary, engaging in constructive conversations rather than resorting to harsh criticism can lead to a more positive and productive discourse.