Amity University Fight: Boy gets thrashed after altercation with a girl allegedly over WhatsApp chat; Noida Police react
A video belonging to Amity University Noida is doing rounds on social media in which a group of student were seen thrashing a boy after he got involved in an altercation with a girl allegedly over WhatsApp Chats.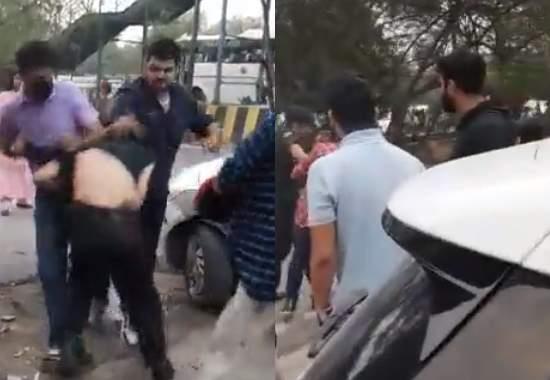 -

A brawl erupted outside Amity University Noida after a boy allegedly indulged in an altercation with a girl inside the college premises over a WhatsApp chat. In response, the girl called up his friends who reportedly thrashed the boy outside the Amit University Noida campus. Now, Amity University Noida fight video is doing rounds on social media with netizens demanding Noida Police or UP Police to take action against the students involved in a physical brawl. Amity University fight video was shared on X, formerly known as Twitter into two parts. In the first part, the boy was seen pushing and raising his hands inside the college campus, while students and the girl tried to save her. In the first video, the girl was seen abusing the girl who hit her inside the campus.

After that, the girl was seen with a number of boy students outside Noida's Amity University campus. A group of students were then seen hurling punches and kicks at the boy who was involved in an altercation. The fight turned out to be so serious, that the girl had to intervene to stop the boys from physically assaulting him as the boy was pushed into the middle of the road where vehicles were coming and going. Seeing the video, a user tagged UP POlice and Noida Police to take legal action. As a result, UP Police reacted and asked the Noida Police to give an update in the case.

UP Police wrote in Hindi (Translated version), "Noida Police please take necessary legal action."

Noida Police also reacted to the incident and explained that the video is almost 1 year old. Noida Police informed that Noida Police Station of sector 126 investigated the incident and it found out that there was some issue took place between the boy and the girl following which the incident took place. After seeing the video, the Amity University administration suspended the student who was involved in the beating.
October 1, 2023
Also Read: Who is Karishma Mehta? Humans of Bombay founder who sued 'POI' over copyright infringement
Watch Amity University Noida's full fight video
Part 2
Context :- A girl and boy gets into altercation at amity over some whatsapp chat and the girl slaps the boy and gets returned with a slap and punch. After which, she calls her male friends to beat up the guy pic.twitter.com/lEeXRvUJLm

— Rana (@Pranjo3) October 1, 2023