Published On
Amritpal Singh supports Khalistan, hails Gurpatwant Singh Pannu on his visit to Golden Temple
Waris Punjab De chief was on a visit to the Golden Temple for Amrit Sanchar organized by Shiromani Gurudwara Prabandhak Committee Author :
Tushar Singh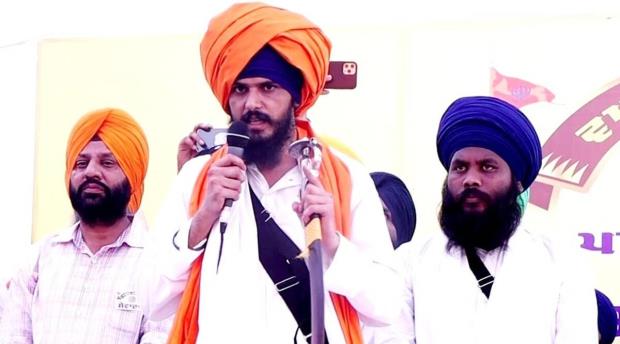 Shiromani Gurudwara Prabandhak Committee is convening 'Amrit Sanchar,' in the Golden Temple today. The congregation which is scheduled to be organized today will also be joined by Waris Punjab De's Jathedar Amritpal Singh, who reached the Golden Temple yesterday night itself with his fellow Sikh followers. Some of his fellow supporters were also seen carrying weapons alongside him.
Amritpal Singh, after reaching the Golden Temple, also addressed the people gathered under Shri Akal Takht Sahib on Saturday. His address at the Golden Temple with so many devotees was at a time when the Jathedar of Shri Akal Takht Sahib Giani Harpreet Singh and the Principal Advocate of Shiromani Gurdwara Prabandhak Committee Harjinder Singh Dhami are in Pakistan now.
While talking to reporters outside the Golden Temple complex, Amritpal Singh openly supported Khalistan. He also supported Gurpatwant Singh Pannu and said that he is with every person who supports Khalistan. Not only this, while replying that Pannu was declared a terrorist by the Government of India, he said that the governments declare anyone as a terrorist and anyone as a sadhu.
Ludhiana: Notice issued to transferred IPS and PPS officers holding govt houses after the transfer
Amritpal has given a scathing reply to the statement given by farmer leader Rakesh Tikait on him not to intervene in the matters of Punjab. He said that Tikait is a non-Punjabi and must not raise his stand on the matters of the state.
At the same time, he has also instructed Vicky Thomas to stay away from Sikh issues. Amritpal went on to say that Thomas is a non-Sikh and it will be good if any non-Sikh stays away from our community's issues.