Published On
'Anupamaa' buys an off-road beast; onscreen sanskari bahu is a badass in real life
Rupali Ganguly, who plays anupamaa in the TV show Anupamaa, announced on Instagram that she and her husband, Ashwin Verma, have purchased a new brand car.
Author :
Sheetal J Bhalla
Anupamaa is the most popular show on television right now. The show has been at the top of the TRP charts since the first episode aired. Rupali Ganguly, Sudhanshu Pandey, Madalsa Sharma, and others have all given outstanding performances. The show has the highest TRPs in history. All of the members in the Anupamaa cast now have a sizable fan base.
All people involved with the show have had a lot of success. Rupali Ganguly, who plays Anupamaa in the drama, has received an expensive present from herself. Rupali Ganguly and her husband, Ashwin K Verma, bought a new red Mahindra Thar Jeep. Rupali Ganguly posted a photo of her new Thar jeep on Instagram and captioned it,"The Tall and the Short of it ! Be Indian Buy Indian, Support Indian! #ProudIndian #instadaily #rupaliganguly #mahindrathar #swadesi #jeep #thar #instagood #jaimatadi #jaimahakal" .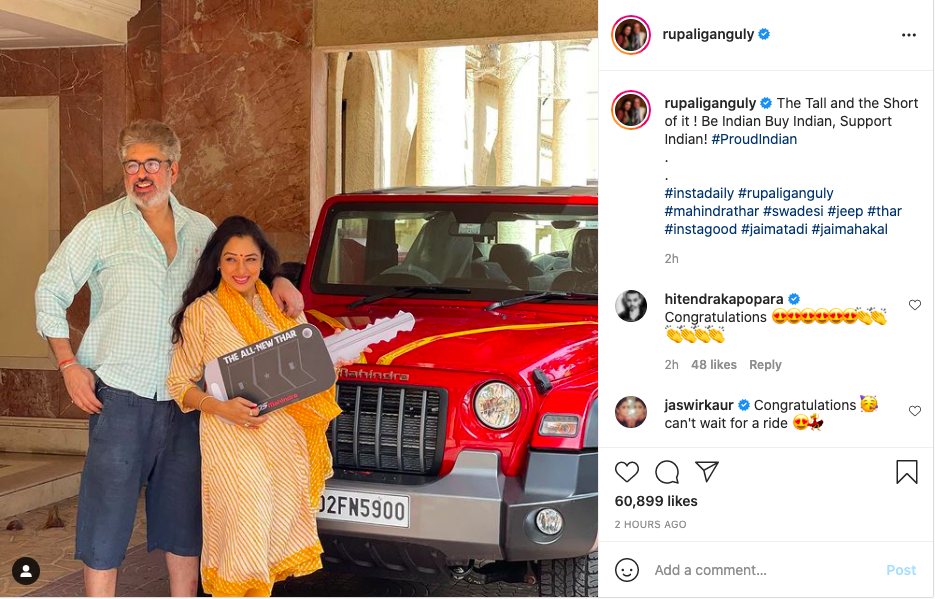 There have been rumours that the lead couple is having a cold war. The cast appears to be split into two groups. Rupali Ganguly, Alpana Buch, Aashish Mehrotra, and Muskan Bamne appear to have formed one group, whereas Sudhanshu Pandey, Anagha Bhonsale, Madalsa Sharma, and Paras Kalnawat appear to have created another.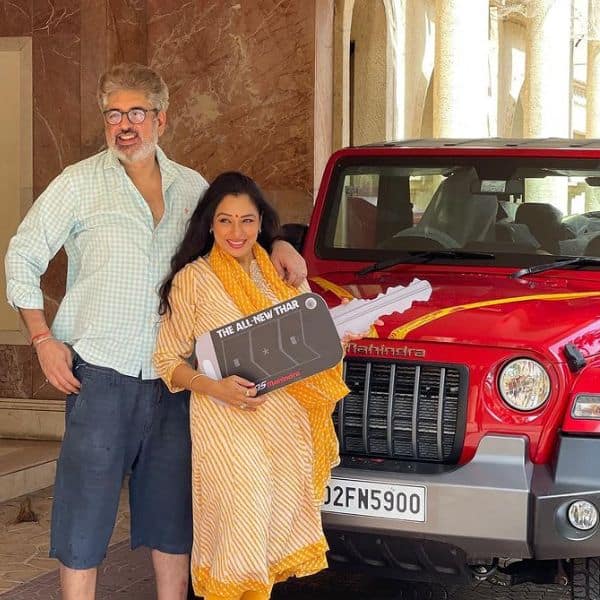 Sudhanshu Pandey did not tag a leading lady in one of the posts, drawing more attention to the rumours. Madalsa Sharma, who plays Kavya, was contacted by a local TV channel. "What nonsense!" she said. These are only rumours at this point. Nothing like this is going to happen." Sudhanshu Pandey later responded to these rumours.
Also Read: Is Lisa Haydon's Third Baby Is In Her "Arms" Now? See How she announced baby girl's arrival
"These are such silly things that people create. I don't even understand how their minds work. How will I achieve anything in my career by untagging someone? Generally, the practice is to tag people who are associated with the picture and mostly I copy-paste the link I get from someone on my social media. When the show started, Rupali and I posted many videos together because we were married in the show. Now, I am married to Kavya (Madalsa Sharma), so obviously, to promote the track, we will post videos together."

Sudhanshu Pandey, on the other hand, has posted a video of Rupali Ganguly and debunked all rumours of a feud between Rupali Ganguly and himself.