Published On
Batala: Stubble burning turns life-threatening; School bus caught fire, 7 students badly burnt
In a tragic incident, a School bus caught fire near a village in Batala, leaving seven children burnt
Author :
Samriti Bharadwaj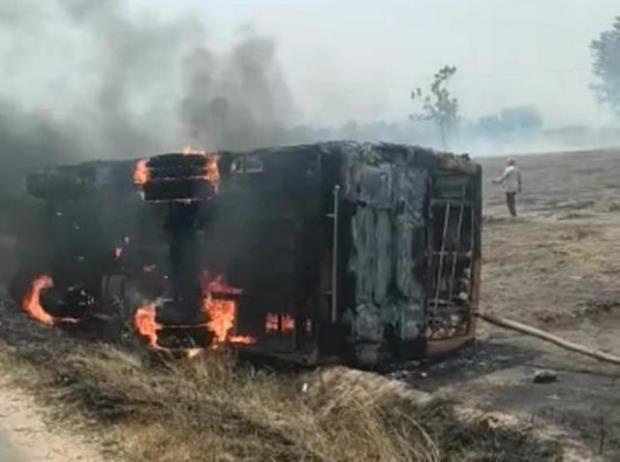 A school bus caught fire in Batala, Punjab, on Wednesday. After a farmer allegedly set fire to farmland to burn wheat stubble, the bus caught fire. The fire severely burned 7 school students on the bus. The children were yanked from the bus by smashing the glass. The burned children were taken to the hospital in critical condition and referred to the Higher Center. The children's parents have demanded that the farm owner be held accountable.

Farmers are not deterred from setting fire to crop residues in the fields, despite appeals by the government and various organizations. A school bus was scheduled to drop the children off at their homes near Bijliwal village near Batala in Punjab on Wednesday afternoon after their leave.

The bus had 42 students on board. Someone had set fire to the grain of wheat in the field when the bus arrived in the village of Bijliwal. The wheat crop residues in the fields on both sides of the road were on fire. Because the driver couldn't see ahead due to the smoke, the bus overturned in a burning field. As a result, the fire quickly engulfed the bus.

Also read: Viral Video: AAP's MLA drives car worth crores, Know who this Aam Aadmi is?

When the bus came under fire, the kids screamed. The passers-by who were passing by gathered there after hearing the innocent's screams. Passers-by smashed the bus windows and dragged the kids out. Seven children were burned as a result of the fire. The injured children were rushed to the hospital for treatment right away.