Published On
Bengaluru Man showers cash from flyover, triggers wild scramble as people throng to collect; Video Viral
The viral footage shows the man wearing the cutout of a wall clock around his neck with a bag cash in his hand Author :
Tushar Singh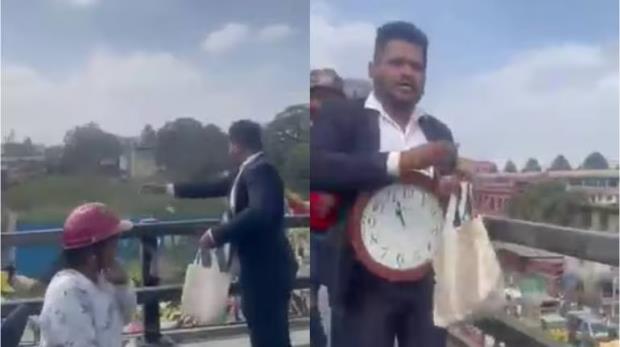 Traffic in Bengaluru came to a screeching halt when a well-dressed man in Suit stood on a flyover and threw wads of cash on the road below.
Videos of the incident taken from the passer-by from different angles are going viral where a man can be seen paving his way through the traffic on the flyover taking out a fistful of cash from inside a bag that he holds and throwing on both sides of the flyover.
Watch the video here.
#Bizarre in #Bengaluru#Traffic came to halt on #Sirsi Circle #flyover and the road below it (#KRMarket) after a well-dressed youth went about throwing currency notes. Who was he and why did he do it is not known. @NammaBengaluroo @WFRising @TOIBengaluru @peakbengaluru pic.twitter.com/zXB6mndKm6

— Rakesh Prakash (@rakeshprakash1) January 24, 2023
The footage also shows a man wearing the cutout of a wall clock around his neck. He walks onto the flyover, looks down at the crowd below and proceeds to throw fistfuls of cash towards the people, who are scrambling to collect the notes, which were of ₹10 denomination.
Digvijay Singh questions India's retaliation against Pakistan, says "No proof of Surgical Strike"; Watch Here
The man is followed by a group of other men on the flyover, which can be seen in the viral footage asking the former to hand them the cash. Another video taken from the road below shows cash being thrown by the man as people standing struggle to collect it.
Reportedly the incident took place on the Sirsi Circle flyover. A man while talking to the local media said that traffic in the KR Market area below the flyover came to a halt as banknotes rained down on people.
Peak Bengaluru, a well-known Twitter handle has identified the man as Anchor Arun, who describes himself as the founder and CEO of Vdot9events.com as mentioned on his LinkedIn profile. Talking to the local media outlet Arun said, "I did not throw the money with any bad intentions. Even I am educated. I did not do this for social media. Please give me some time, I will explain why I did it."
Arun who was on the bike fled the spot soon after, KR Market Police issued a notice to Arun seeking an explanation for the incident, besides filing a case of non-cognizable offence against him.