Published On
Bhagwant Mann to take oath in Khatkar Kalan: Know why Shaheed Bhagat Singh is so important for Aam Aadmi Party
Bhagwant Mann to take oath as the 17th Chief Minister of Punjab at Khatkar Kalan, the ancestral village of freedom fighter Bhagat Singh in Shaheed Bhagat Singh Nagar district on March 16 Author :
Samriti Bharadwaj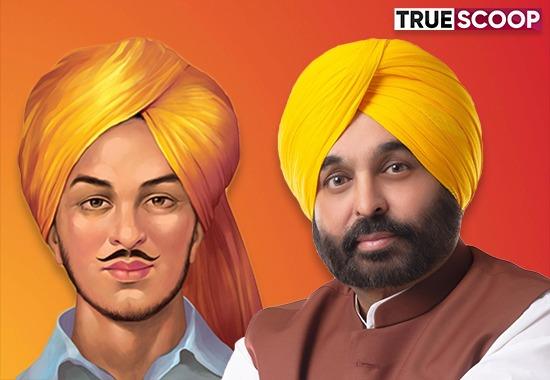 Bhagwant Mann the new CM of Punjab from the Aam Aadmi Party is all set for the oath ceremony to be held at Khatkar Kalan, the ancestral village of freedom fighter Bhagat Singh. Bhagwant Mann is going to be the 17th Chief Minister of Punjab.

The freedom fighter is kept at the main front of the Aam Aadmi Party's Political messaging in Punjab. The ideologies of Bhagat Singh can be listened to in the speeches of Bhagwant Mann and the Aam Aadmi Party's other candidates. Taking it further, Bhagwant Mann has decided to take the oath at the ancestral village of Freedom Fighter Bhagat Singh.

Here are some of the possible reasons, why the Aam Aadmi Party includes Bhagat Singh in its messaging strategy:

Revolutionary Personality:

Another name for Sardar Bhagat Singh is Kranti (revolution). When the party includes his name in its messaging, it means that the party is indicating that they will do revolutionary work for the state. Aam Aadmi Party is not only using this strategy in Punjab but also in Delhi.

Mass Appeal:

Bhagat Singh is a youth icon. He is followed by the young population of Punjab. Making him the idol of the party can be a good step for AAP as it attracts a mass of population towards them.

Political Shield:

Many political parties had used the name of freedom fighters name in their political messaging. During the election campaigns when opposition parties targeted Arwind Kejriwal, he replied, even Bhagat Singh was called a Terrorist by the Britishers.

Also read: Corona ban lifted in Punjab ahead of Rs 2 Crores swearing-in ceremony of CM

Nationalism:

Patriotism connects the Indians. Bhagat Singh is one of the biggest names among the freedom fighters in Indian history. His sacrifice for the country is irreplaceable. Using his name in the political messaging could result in a good step for the Aam Aadmi Party.

Bhagwant Mann himself wore the yellow turban making it his trademark, he also asked his supporters to come wearing yellow.