Published On
Bhushan Kumar rape case: T-Series producer denies charges, alleges extortion
T series said, "The complaint filed against Mr. Bhushan Kumar is false and malicious, and its contents are denied.
Author :
Sheetal J Bhalla
According to recent allegations, T-Series Managing Director Bhushan Kumar has been accused of rape.

On Friday, a First Information Report (FIR) was filed against the film producer at the DN Nagar police station in Mumbai's Andheri (West).

The victim is a 30-year-old woman who claims the 43-year-old music producer assaulted her under the pretext of a job in one of his upcoming projects.

The investigation is still ongoing. No arrests have been made till now and probe is currently in progress.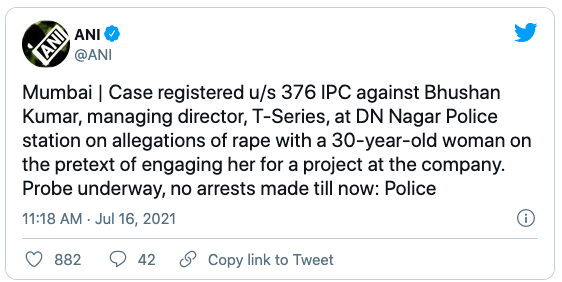 "According to the complaint, Bhushan Kumar reportedly raped the woman under the guise of giving her with a job in one of his own company's projects," the official told PTI. "The woman claimed he had cheated her, so she went to the cops," he added.



Kumar has been charged under sections 376 (rape), 420 (cheating), and 506 of the Indian Penal Code, according to a police source (criminal intimidation).

Also Read: T-Series Managing Director Bhushan Kumar Accused Of Alleged Rape, FIR Filed
Following this, Producer Bhushan Kumar's team has issued a statement.


T series said, "The complaint filed against Mr. Bhushan Kumar is false and malicious, and its contents are denied.The lady in question was falsely accused of being sexually exploited between 2017 and 2020 under the guise of providing her with work. She has previously worked under the T-Series banner in the film and music video industries. She approached Mr. Bhushan K in March 2021 seeking help to fund one of the web-series which she wanted to produce, which was politely refused. "

Bhushan Kumar team further said that "Following that, in June 2021, when the Maharashtra lockdown was lifted, she approached the T-Series brand in cooperation with her accomplice, asking a large sum of money as extortion money. As a result, on July 1, 2021, T-Series filed a complaint with police at Amboli police station regarding the attempted extortion."





T- Series concluded, "For the extortion attempt, we also have proof in the form of an audio recording, which we will send to the investigating agency. The current case she has filed is only a counter to the extortion complaint she and her accomplice have been charged with. In this context, we are speaking with our lawyers and will take appropriate legal action."