Published On
Birmingham: Masked Islamists demonstrates surrounding temple with 'Allahu Akbar' chants in the viral video: Watch
Several posts on Twitter went on to slam the attack claiming it as intimidation and a threat to local Hindus, even the police looked on as the events unfold
Author :
Tushar Singh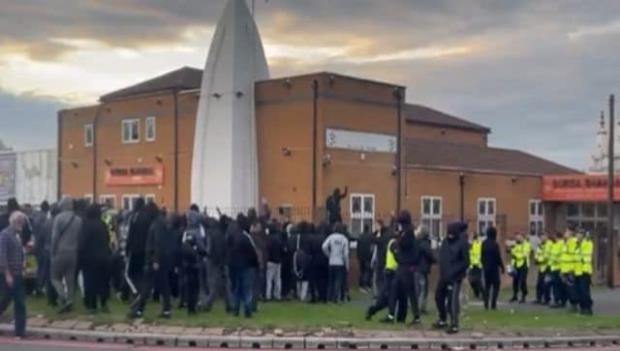 Days after an agitated Muslim mob went on a rampage to vandalize the Hindu temple, besides desecrating the saffron flag in UK's Leicester, a mob of around 200 people mostly Islamic radicals attacked the Durga Bhawan Hindu Center in Smethwick, Birmingham by shouting religious chants.
As per reports going around on social media, Sadhvi Rithambara was supposed to address the Hindu Center but was canceled owing to the poor health of the former.
Several posts on Twitter went on to slam the attack claiming it as intimidation and a threat to local Hindus, even the police looked on as the events unfold.
In a post informing about the incident, a user made a tweet on the incident, "First Leicester, now Smethwick. Where next? Around 200 people marched towards the Durga Bhawan Hindu Centre. It is clearly intimidating and frightening for local Hindus. The security services need to crack down on these anti-Hindu thugs."
The visuals showed police along with a mob standing near the wall of the temple as some tried to jump over.
Watch Here:
Wichita, Kansas: Woman hurls homophobic slur after allegedly being caught stealing car wash; Video Virapic.twitter.com/uVHmN9MDWjSeptember 20, 2022
After Leicester, now Radicals are targeting Hindu community in Birmingham, UK.

They chanted their religious slogan & tried to barge into the Hindu temple. pic.twitter.com/uVHmN9MDWj

— Anshul Saxena (@AskAnshul) September 20, 2022
Contrary to the development of the event a social media account named Apna Muslim claimed that people gathered outside to observe a peaceful demonstration outside the Durga Bhavan Temple.
The communal rampage trail began with the Indo-Pak cricket match from the recently concluded Asia Cup following Pakistan's defeat, the two sides went at loggerheads and attacked each other. It was during this development of event the Hindu temple was attacked by the Muslims earlier this week in Leicester.
Police parties were involved in dissolving the disturbance as was seen in the visuals while the struggle between the warring sides continued. There have been no reports guiding what actions have been taken against the unprovoked action in Birmingham as of now.