Published On
Bling Empire: New York - Who are the real-life super-rich Asians from season 1 of the docusoap?
The show was released on January 20th on Netflix and have received a fairly mild response from the critics and viewers Author :
Tushar Singh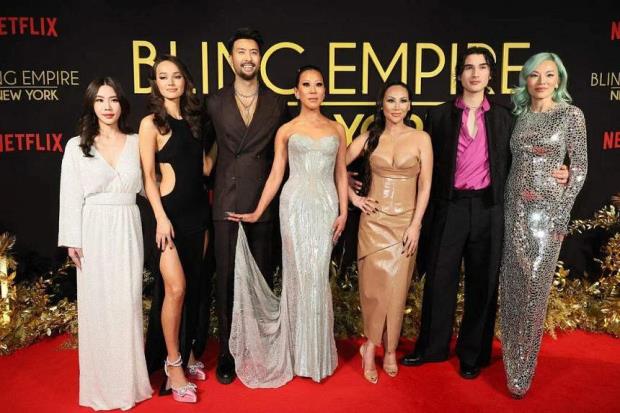 The high-profile spinoff of Bling Empire, set in the swarming city of New York takes you on the journey of a new group of stylish and wealthy Asian Americans living their best lives in the city, filled with endless party nights, luxury, and drama.
Stretched over 8 episodes, the docusoap that was released on January 20th on the global OTT giant Netflix, however, received a mild response from the audience and critics owing to the presentation of the group's extravagant lifestyle.
Presenting to you the real-life characters whose lives have been portrayed in the series and their viewpoint.
Dorothy Wang:
Born and brought up in Beverly Hills, Wang is a socialite who is of the view moving to New York will "roughen and toughen" her up and encourage her to take more risks. She is super excited about entering the dating scene and making a new circle of friends.
Wang in conversation with the media said, "In our normal life, we're so fun and a pleasure to be around. We're good energy." She previously appeared on the reality series Rich Kids of Beverly Hills.
Richard Chang:
Richard runs a medical group specializing in alternative medicine and describes his girlfriend, Vika, and himself as being "bling-adjacent." He's always hustling to build up his brand and court more high-profile clients. In his personal life, he feels he's found his partner in Vika but is waiting for the right moment to move their relationship forward.
Vika Abbyaeva:
For others in the group, Vika is timid and inseparable from her boyfriend, Richard, however, she is determined to show that she has her own stand and person made of self-belief.
During a conversation with the leading news wire, she said, "I was once in a gang. I was in middle school, but we were still badasses. And it was mostly girls," Vika says. "We didn't beat anyone up. It was a way for us to hang out and pretend to be tough."
Nam Laks:
"In your light, I learn how to love…", Athiya Shetty shares pictures with HUBBY KL Rahul, pens heartfelt note; See Post
The so-called "Blair Waldorf of Thailand," is used to getting whatever she desires. However, as she is finishing up graduate school she stands at a crossroads. She has the option of either returning home or staying in New York and faces financial hurdles.
Tina Leung:
Tina is a fashion influencer and is a close friend of Dorothy and introduce her to the social circle in New York. Alongside supporting her financially, Tina is looking ahead of staying on the top of latest trends and maintaining a relationship within the fashion world.
Blake Abbie:
Blake's intriguing journey in the show begins after he encounters a fashion magazine editor, where he goes on to express himself, and his sexuality and is highly anxious about expectations to begin a new life by starting a family with his Chinese relatives, while he enjoys the grittiness and glamour of New York, he still gets homesick.
In an interview, he said, "I grew up in Vancouver, so I really yearn for the ocean and the mountains, or just greenery in general when I'm in New York… I like to go along the East River even and sit underneath the FDR and have all the Chinese po pos and gong gongs doing their exercises 'cause it's very nice and reminds me of home."
Lynn Ban
Lynn is a jewellery designer with an edgy fashion sense who's outspoken and doesn't fear to give her opinion, her success overshadows her husband, Jett Kain, in the show Lynn has to negotiate her husband's desire to step aside from their business and pursue separate endeavours in life.
Stephen Hung:
Stephen, a billionaire is fond of giving lavish gifts to her wife, Deborah and being out and about with her at a fashion or art show, he sets a perfect tone and example of how not to care what others think of him being older than his wife and lives a life what pleases him.
Deborah Hung:
Stephen's darling wife, Deborah comes from Mexico she aspired to become a lawyer before she met her billionaire husband. She is not the kind of person who takes insults lightly and clashes with Dorothy after their first encounter.