Published On
Brahmastra Review: Shah Rukh Khan's cameo in Ayan Mukherji's 'Astraverse' sends fans into a frenzy
As Bramhastra has finally hit the theaters, Shah Rukh Khan Bramhastra cameo viral video is spreading like a wildfire Author :
Ujjwal Samrat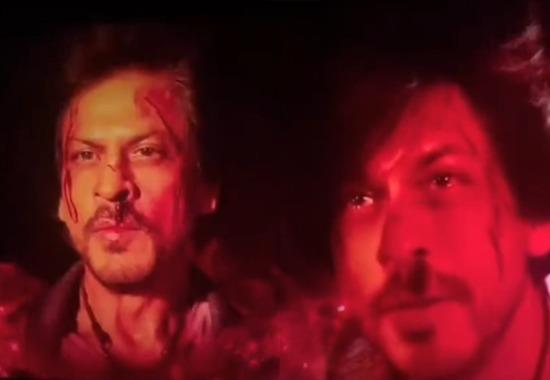 The magnum-opus starring Bollywood actors Ranbir Kapoor and Alia Bhatt (main characters) Bramhastra finally hit the theaters on Friday, September 9. Directed by Ayan Mukherji, Bramhastra is a multi-starrer fictional drama that keeps the audience on their edge. Brahmastra Part One: Shiva intends to serve as the first film in the planned trilogy as a part of its own cinematic universe Astraverse. Bramhastra has been buzzing on social media not only because of its unique content but also because of Shah Rukh Khan's cameo in the movie. Shah Rukh Khan Bramhastra cameo video is now trending on Twitter with fans going gaga over his impeccable acting.
As Bramhastra has finally hit the theaters, Shah Rukh Khan Bramhastra cameo viral video is spreading like a wildfire. In the Bramhastra Shah Rukh Khan viral video, it can be seen the King Khan caught by Mouni Roy 'the Queen of Darkness' and torturing him to reveal the secrets about the ultimate weapon. "In the fight of Bramhastra, the light will always be victorious," says Shah Rukh Khan.
Interestingly, as soon as the video went viral on social media, it was soon taken down seeing Bramhastra has recently been released and makers cannot afford to let it float on Twitter. Divulging more details about Shah Rukh Khan's cameo in Bramhastra, 'King Khan' is reportedly playing the role of a scientist who wields the Vānarāstra.
Apart from Shah Rukh Khan, others actors like Amitabh Bachchan, Mouni Roy, and more will be playing pivotal roles. Amitabh Bachchan will be seen playing the role Guru, who mentors Ranbir's character in the film. Amitabh Bachchan is also the leader of the Brahmānsh who wields the Prabhāstra. Alia Bhatt will be seen romancing with Ranbir Kapoor in the movie. Mouni Roy is in negative character portraying the character of Queen of Darkness. Nagarjuna Akkineni is playing the role of Anish, an artist and a member of the Brahmānsh who wields the Nandi Astra. Nagarjuna's character in the movie is one of the protectors of Brahmastra.
Bramhastra: Ranbir Kapoor-Alia Bhatt denied entry into Ujjain's Mahakaleshwar Temple over 'Beef' remark
Bramhastra Review
For the fans who are looking for Bramhastra review before heading to theaters, the Ayan Mukherji directorial is getting mixed reviews. While many media organisations are calling it a blockbuster material with the Bollywood film is looking for quite a sometime, film critic like Taran Adarsh has called it 'disappointing'. However, one thing is sure Bramhastra is indeed an entertainer and moves away from typical Bollywood films that the fans seek nowadays.