Bramhastra: Ranbir Kapoor-Alia Bhatt denied entry into Ujjain's Mahakaleshwar Temple over 'Beef' remark
Ranbir Kapoor-Alia Bhatt were not allowed to visit the Mahakaleshwar Temple and director Ayan Mukherjee had to take the blessings alone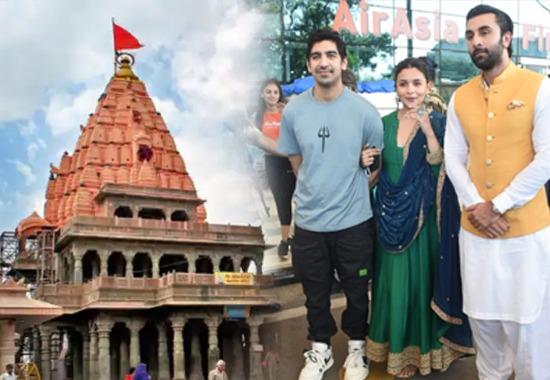 -

The much-awaited movie Bramhastra is all set to release in theaters on September 9, 2022. With few days to go for Bramhastra's release, Ranbir Kapoor, Alia Bhatt, and filmmaker Ayan Mukherjee are leaving no stone unturned to promote the movie. On Tuesday, Ranbir Kapoor, and Alia Bhatt along with Ayan Mukherjee went to Ujjain to seek blessings in the famous Mahakaleshwar Temple ahead of Bramhastra's release. However, Ranbir Kapoor-Alia Bhatt's Mahakaleshwar Temple visit did not go well as they faced massive protest from Hindu organisations including Bajrang Dal over the Shershah actor's old remark on 'Beef'. Now, it has been revealed that Ranbir Kapoor-Alia Bhatt were not allowed to visit the Mahakaleshwar Temple and director Ayan Mukherjee had to take the blessings alone.

Ayan Mukherjee on took to his Instagram on Tuesday and shared his picture worshiping in Ujjain's Mahakaleshwar Temple. Sharing his photo, Ayan wrote, "Feel very happy and energised to have visited Mahakaleshwar Temple today… Got the most beautiful darshan…Wanted to make this visit to close the film-making journey on Brahmāstra, and to get all the positive energy and blessings for our Release (SIC)." In the shared photo, Ayan can be seen in a red tika on his forehead and a garland of flowers around his neck.

On Tuesday, Ranbir, Alia Bhatt and Ayan had left Mumbai together to offer prayers at Mahakaleshwar Temple. However, the trio was welcomed by protestors in Ujjain, who did not let the actors attend the aarti (prayer) in the temple. Only Ayan could make it inside the temple and could be seen taking blessings as the protestors reportedly started fighting with police personnel to prevent Alia and Ranbir's entry inside the temple.

Ranbir Kapoor 'beef' comment

For the unversed, in a food show in In 2011, Ranbir Kapoor while promoting his film Rockstar, had said he loved eating beef and called himself a 'beef guy'. "My family is from Peshawar, so a lot of Peshawari food has come with them. I am a mutton, paya, and beef fan. Yeah, I am a big beef fan," he had said. The old video has resurfaced ahead of the release of Brahmastra.

After Ranbir was denied entry, his 'beef' comment video was dug out by netizens on social media. Now, Ranbir Kapoor's beef comment is being widely circulated on social media.

Boycott Bramhastra: Ranbir Kapoor, Alia Bhatt face protests at Ujjain Mahakaleshwar Temple for 'beef' remark; Watch

Bramhastra movie

Bramhastra will be released on September 9 and is expected to break Bollywood's blockbuster hiatus on the box office. Notably, despite Boycott Bramhastra trends and controversy revolving around the starcast, the film has already sold over 1 lakh tickets in advance. Theatre chain PVR took to Twitter and revealed that they've already sold over lakh tickets for the film. "Were you Lucky enough to grab your tickets to #Brahmastra? With over 1,00,000 tickets sold so far, the Astraverse is truly set to be an epic fantasy that breaks the barriers of film-making!" they tweeted.