'Corporate bookings or fan's actual love?': Bramhastra empty theaters video puts weight on Kangana Ranaut's claims
Many fans are sharing Bramhastra's empty theaters video on social media indicating that Kangana might be true to her claims.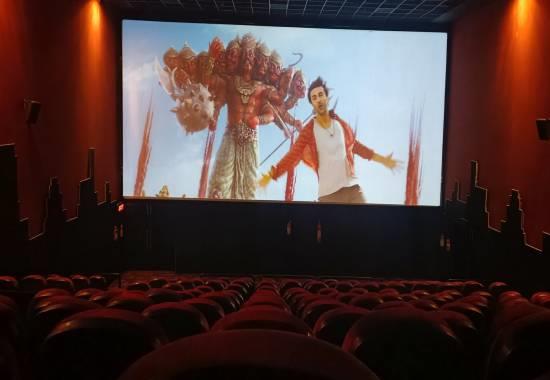 -

The much-awaited movie Bramhastra starring Bollywood actors Ranbir Kapoor and Alia Bhatt finally released on September 9, 2022. Ever since Ayan Mukerji's magnum-opus movie Bramhastra has been released, it has been getting mixed reviews on social media. While some are hailing Ayan Mukerji for bringing a unique concept to demolish Bollywood's dry run of box-office, many are saying that they are disappointed with the 'low content' of the movie. On Saturday it was reported that Bramhastra has become the highest-grossing Hindi film released on non-holiday earning Rs 75 crores worldwide. However, Bollywood actress Kangana Ranaut alleged that Bramhastra's earnings are all based on corporate booking and the audience is disappointed. Now, many fans are sharing Bramhastra's empty theaters video on social media indicating that Kangana might be true to her claims.

There are multiple Bramhastra empty videos have been doing rounds on social media with netizens taking a dig at the makers saying that it is scary to watch the movie alone in the movie hall. Bramhastra which is said to be the most expensive movie made to date. "It's scary to watch this movie (Brahmastra) in an empty theatre," a Twitter user said, while calling the Ranbir Kapoor movie an "epic disappointment".

Watch Bramhastra empty theaters viral videos and photos
Epic Disappointment
⭐
It's scary to watch this movie in a empty theatre #Brahmastra#BrahmashtraReview #AliaBhatt pic.twitter.com/U4JKhR6shf

— Dr. Ayushi chauhan (@chauhan_ayushi) September 9, 2022
Public Response Is Loud And Clear Only 7 People Are Watching Ranbir Kapoor's #Brahmastra Movie In 300 + People Capacity Multiplex Threatre #BrahmashtraReview

Watch This Video Retweet To Reach Maximum People #BoycottBrahamstrapic.twitter.com/plqDzVRw9J

— Arnav Raj (@Arnav__Raj) September 9, 2022
Super flop #Bramhastra

Today's City Pride Kothrud 1130 show 🤣🤣#BoycottBrahamstra #brahmastra #BoycottBollywood #BoycottbollywoodCompletely pic.twitter.com/kPCZ0Y1Abu

— Majanu bhai (@Majanubhai_) September 9, 2022
Bramhastra Box-office collection Day 1: Ranbir Kapoor-Alia Bhatt's movie becomes the biggest non-holiday Hindi release
All seats Empty...i think Bramhastra will be another flop #BoycottBramhashtra pic.twitter.com/3iKeL8mriL

— Shrikant Ch (@Sebhul88) September 8, 2022
#Brahmastra    - Rating ⭐️½

This film is a personification of DISASTER. Horrible VFX & direction, not even a single scene evokes goosebumps rather it is bound to give you headache throughout the run time. A blot on filmography.#BoycottBrahamstra#BrahmashtraReview pic.twitter.com/8cGtSyjgFq

— Sumit KadeI 🗨️ fan (@beingskd786) September 9, 2022
Kangana Ranaut lambasts Ayan Mukerji for burning 'Rs 600 crore to ashes'
Kangana took to her Instagram story and first slammed Karan Johar. The actor wrote, "People like Karan Johar should be questioned for their conduct. He is more interested in everyone's sex life than in his films scripts. He self admittedly buys reviews, stars, and fake collection numbers and tickets. This time around he tried to ride Hinduism and south wave.
Kangana Ranaut did not spare director Ayan Mukerji either and wrote, "Everyone who called Ayan Mukerji a genius should be jailed immediately… He took 12 years to make this film, he replaced 14 DOP's he shot for more than 400 days for this film and changed 85 ADs and burnt 600 crores to ashes. Also tried to exploit religious sentiments by changing the film name from Jalaluddin Rumi to Shiva last minute, because of Bahubali success…. Such opportunists, such creativity deprived people, success starved greedy people if called geniuses then it's not manipulation but a well thought of strategy to call din ko raat and raat ko din…"