Published On
Canada: Indian students mostly from Punjab protest against authorities as deportation loom over 700 students
Numerous Indian students mostly from Punjab who are victims of fraud by agent are protesting to seek justice opposite to the Canadian Border Security Agency (CBSA) office. Author :
Malkit Singh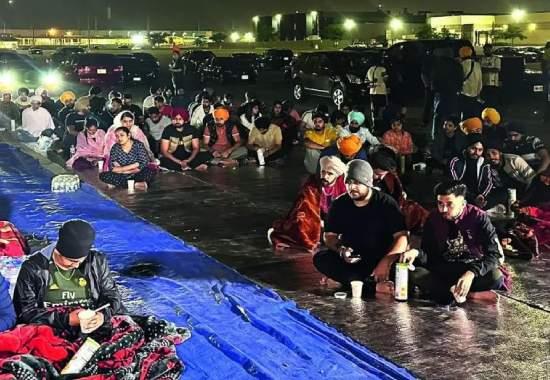 Indian students mostly from Punjab have resorted to protest against Canadian authorities as a threat of deportation is looming over 700 students due to fake admission scams. Numerous Indian students mostly from Punjab are victims of fraud by agents. As a result, they have started to stage protests at the Canadian Border Security Agency (CBSA) office on 6899 Airport Road, Mississauga in Ontario province. The students are peacefully demonstrating against deportation and are seeking justice by putting up a tent and residing under the open sky.
As per reports, thousands of students have gathered in Mississauga and are demanding the Canadian government to withdraw the decision to deport more than 700 students. The students who have reached Canadian soil and have been cheated by agents in India should be adjusted in Canadian educational institutions. For those who are unaware, 700 Indian students received deportation notices from the Canada Border Security Agency after their visa documents were discovered to be fictitious. It was revealed that these students received their visas from Jalandhar-based Education Migration Services, run by Brijesh Mishra, who helped students with visa applications.
Following this, the Police located Mishra's office in Jalandhar and he was summoned by the Jalandhar DC. However, when the Police reached Mishra's office, they found out that it was shut down for the past 7 months. As a result, Jalandhar DC suspended the firm's license and also issued a showcase notice. To be precise, Mishra allegedly issued them doctored admission letters from institutes in Canada in 2017 and 2018. They obtained visas based on these letters and later travelled to Canada. After landing there, the consultant told them that they could not enrol in that particular college and got them 'adjusted' in other colleges.
Stop deportation of innocent international students in canada @canadavisa_com @JustinTrudeau @theJagmeetSingh @SeanFraserMP pic.twitter.com/RoJt5IUQVr

— Simranjot Singh (@Punjab_Raaj) June 1, 2023
Notably, while thousands of Indian students are protesting to seek justice in Canada, the Police are yet to nab Brijesh Mishra. Brijesh Mishra has not been caught by the police yet. Reports suggest that Mishra has fled abroad from Punjab. A lookout notice has been issued against Mishra as well.
What is the Canadian government thinking?
As per reports, the Jagmeet Singh-led New Democratic Party (NDP) is preparing to introduce a motion in the country's parliament to cancel deportation orders for the people while also facilitating a pathway to permanent residency for them. The motion will provide relief for hundreds of former students from India who could face deportation from Canada due to fraudulent enrollment offers. The mayor of Brampton also reached to the protest site in order to express his solidarity with the Indian students.
Who is Brijesh Mishra? Jalandhar DC summons agent linked to 700 Indian students facing deportation from Canada
Patrick Brown, Mayor of Brampton, took to his Twitter handle and wrote, "Joined @gurpartapstoor tonight at the international student protest site to show our support for students. International students have been part of Canada's success story. Any dream is possible in Canada. Students shouldn't be the victims of fraudulent immigrant consultants many years after their journey to Canada. "
Joined tonight at the international student protest site to show our support for students. International students have been part of Canada's success story. Any dream is possible in Canada. Students shouldn't be the victims of fraudulent immigrant consultants…

— Patrick Brown (@patrickbrownont)