Meghana Raj Sarja has been without her husband and one of the most well-known actors, Chiranjeevi Sarja, for a year. On June 7, 2020, the actor suffered a major heart attack and passed away.


Chiranjeevi is survived by his wife and son, who is fondly called Jr Chiru. Chiranjeevi died while Meghana was five months pregnant. Meghana is due to give birth to their son in Bengaluru on October 22, 2020.



Meghana has been using Instagram to share pleasant images of their son and memories of Chiranjeevi. She has been doing everything she can to bring a smile to the faces of Chiranjeevi Sarja's family and admirers after the actor's death.

Fans of Chiranjeevi took to social media on Monday to pay tribute to the actor.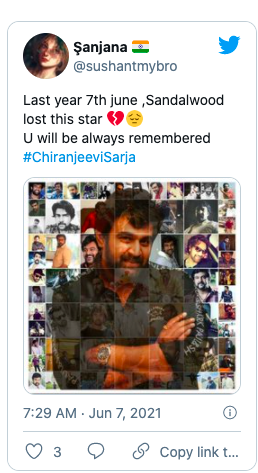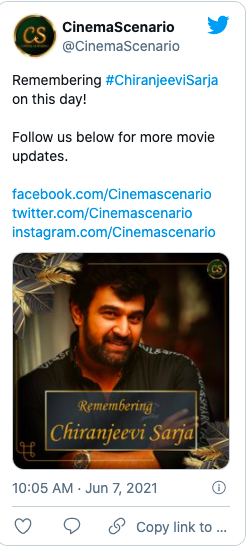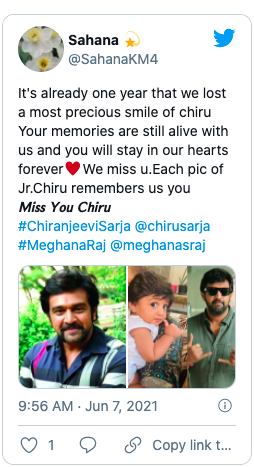 Meanwhile, Meghana revealed in an interview that she will take their son Jr Chiru to the late actor's memorial for the first time. They will go to a farm where Chiranjeevi's memorial is located. Also Read: The Family Man 2: A series changing character "Chellam sir" is answer to Google and Wikipedia

Meghana also expressed her delight that their son is very similar to Chiranjeevi in so many ways.

Meghana shared a sweet photo of herself with the late actor on Instagram on June 6. Chiranjeevi can be seen looking warmly at her in the photo. ''US MINE'' Meghana wrote a caption for the candid shot.

Chiranjeevi and actress Meghana got engaged on October 22, 2017, following a decade-long relationship. They tied the knot a year later in 2018.