Clash between Nihang Singhs in Sultanpur Lodhi,two injured
Before the Prakash Parv of Shri Guru Nanak Dev Ji, tension created due capturing of Gurudwara Shri Akal Bunga,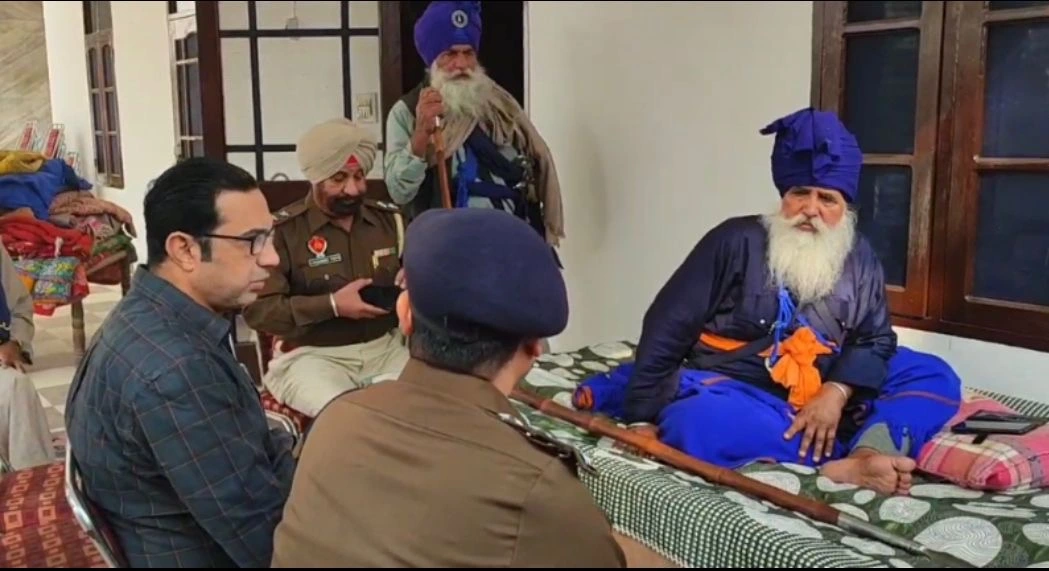 -

ASHISHPURI
November 21,Kapurthala

The situation has become tense in Sultanpur Lodhi before the 554th Prakash Parv of Shri Guru Nanak Dev Ji as there was a clash between Nihang Singhs on Tuesday over the capture of gurudwara shri akal bunga located near the historical Gurdwara Sri Ber Sahib. In this, two Nihang Singhs present in the Gurudwara premises were injured, who have been admitted to Civil Hospital Sultanpur Lodhi.

As soon as information about this happening was received, 200 police personnel including SDM Sultanpur Lodhi Jaspreet Singh, SP-HQ Tejbir Singh Hundal, DSP Babandeep Singh reached there and the entire area was transformed into a cantonment. Since morning, the administration is busy resolving the dispute to control the situation. Till the time of writing the news, police and civil administration were present in the Gurudwara premises.

According to the information, Baba Balveer Singh, the head of Budha Dal, Who entrusted the responsibility of Chief Sevadar of Gurdwara Sahib to Baba Nirvair Singh Dhillon. Jagjit Singh was present with Nirvair Singh on Tuesday morning. Injured Nirvair Singh and Jagjit Singh of Baba Balbir Singh group admitted in Civil Hospital told that they were present in Gurudwara Sahib in the morning. Meanwhile, at 8.30 am Maan Singh, chief of Shiromani Panth Akali Budha Dal Chalda Waheer Chakraborty Punjab, along with about 15-20 companions took them hostage and started beating them and captured the Gurudwara.

As soon as information about the incident was received, a heavy police force including SDM, SP-H, DSP reached Gurudwara Sahib and rescued both of them from their custody. Nirvair Singh and Jagjit Singh told that if the police had not come and rescued them, they would have been killed by them. He said that Baba Balbir Singh has been in possession of Gurudwara Sahib for a long time. That's why Maan Singh has come to capture the Gurudwara. He has demanded action from the district and police administration.

SDM Jaspreet Singh said that the police and civil administration are talking to the Nihang Singhs in Gurdwara Sahib. The administration is fully prepared to maintain peace in the city. Negotiations are still going on. He completely rejected the news of anyone being injured and refused to say anything else. It is being told that Baba Balbir Singh Budha Dal along with his 20-25 companions are present in the PUDA of Sultanpur Lodhi, where the police has stopped them, so that the atmosphere does not deteriorate. Maan Singh, who was occupying Gurudwara Akal Bunga along with 100 of his companions, said that he will celebrate Gurpurab in Sultanpur Lodhi.

On the other hand, there is a possibility of conflict between Nihang Singhs iso heavy force deployed there by administration.There is an atmosphere of panic among the Sangat coming to Sultanpur Lodhi regarding Prakash Parv. Here it is mentioned that there has been a dispute between these two groups before and already a case has even been registered against one group. DSP Gurmeet Singh, DSP Satnam Singh, Tehsildar Vishal Verma, Naib Tehsildar Joginder Singh, City Council EO Balveer Singh Gill etc. are present in Gurudwara Sahib. Till the time of writing the news, the administration making efforts to convince Baba Maan Singh.