Published On
CM Bhagwant Mann Is All Set To Nail Down Gun Culture In Punjab
In a stringent move, Punjab CM Bhagwant Mann held a meeting with senior officials to formulate a new plan of the government to curtail the Gun Culture from Punjab.
Author :
Chanderveer Singh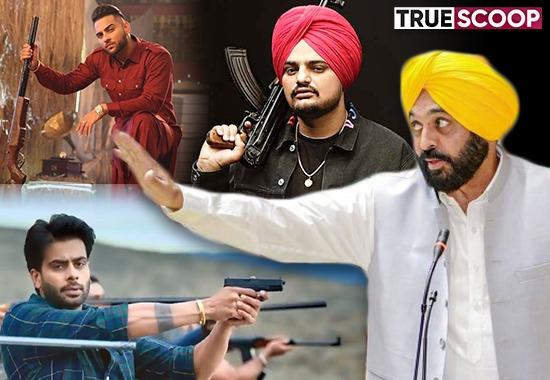 Taking strict action to control the gun- culture and drug mafia in Punjab, CM Bhagwant Mann on Thursday held a meeting in which SSP, Commissioner of Police and Deputy Commissioner were present.
It has been observed that some Punjabi singers make guns and drugs as the main theme in their songs which promoted gangster culture and glorify anti-social behavior. This is inciting violence, hatred and enmity in the society.
Punjab Chief Minister Bhagwant Mann is disappointed from Punjabi singers. "Stop singing songs that promote gun culture and gangsterism," he said. Mann said singers should sing songs that strengthen brotherhood, peace and harmony while following the values of Punjab, Punjabi and Punjabiyat.
If this is not done then the government will take strict action. At this moment it is an appeal, but if such songs will come in the future, the government will not forgive them.
It is worth mentioning that the songs of many singers from Punjab like Babbu Mann, Sidhu Musewala, Karan Aujla, Mankirat Aulakh etc. have been widely based on guns and drugs. Sidhu Musewala, who fought election on the Congress ticket from Mansa in Assembly elections, has sung many songs like Mafia Style, Bad, Sanju, AK47, Me and My Girlfriend, Gun etc. in which guns are openly brandished and used. Mankirt Aulakh, another singer who is notoriously famous for promoting drugs and gun culture, has sung songs like Badnam, Gangland, Daru Bandh, Jail, 8 raffle songs. Popular as a song machine, Aujla's songs like Chitta Kurta, Red Eyes, IT AIN'T Legal, Adhiya, Hint are songs which reflect anti-social behavior.