Cockroach found inside Chandigarh Sector 3 Club's food; Food Safety Department launch probe
A lawyer along with his family went to the Chandigarh Sector 3 club to celebrate his son's birthday, but, what happened next was utterly shocking.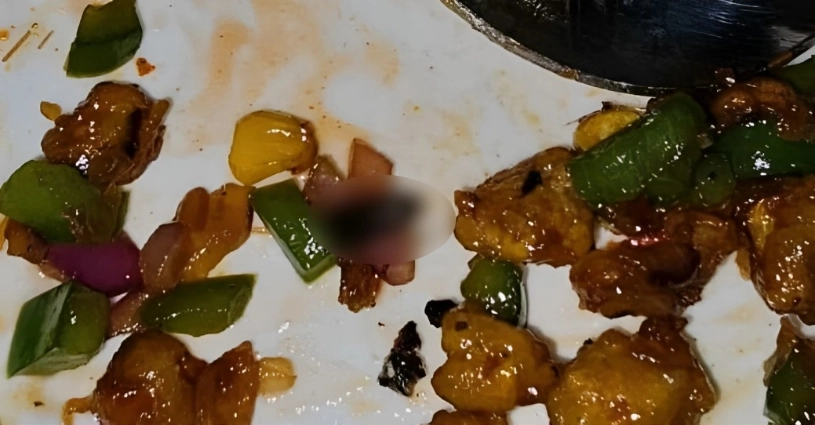 -

A famous club in Chandigarh Sector 3 has come under scrutiny after dead cockroaches were found in their food. A lawyer along with his family went to the Chandigarh Sector 3 club to celebrate his son's birthday, however, what happened next was utterly shocking.

The lawyer, whose family was there to celebrate their son's special day, filed a complaint with the Food Safety Department, which is reportedly launching an immediate investigation into the alarming incident. The shocking revelation came when the lawyer and family discovered cockroaches in their meal, turning what was a joyous occasion into a nightmarish experience.

Deeply concerned for the safety of not only his family but also other patrons, the lawyer wasted no time in filing a formal complaint with the Chandigarh Food Safety Department. In response to the complaint, action was taken quickly and a team from the Food Safety Department was sent to inspect the kitchen of the club. However, when they arrived, they encountered a surprising twist.

The operators of the club were understood to have locked the kitchen and fled the premises, raising suspicions and increasing the need for a thorough investigation. As the incident gained public attention, questions were raised about the hygiene and safety practices of the club, which until then was known for its popularity among the city and its residents.

A lawyer and family gathered to celebrate his son's birthday were in disbelief when the party took an unexpected turn. Now, the food safety department plans to carry out a detailed inspection of the club's kitchen, the purpose of which is to find out the extent of hygiene violations and possible health risks for customers.

Authorities are determined to uncover the truth behind the horrific incident, which has raised concerns about the popular establishment's general cleanliness and adherence to food safety standards. Residents and regular patrons of the club expressed their shock and outrage at the incident on social media, demanding immediate action against the operators and enhanced security measures to avoid such incidents in the future.

The incident is a stark reminder of the critical importance of strict food safety regulations and the need for thorough inspections to ensure the well-being of the restaurant's customers.

The club and its reputation are at stake as the investigation progresses, and the food safety department and findings are likely to have far-reaching implications for the facility and future operations. The incident also encourages a wider debate about the vigilance necessary to ensure the highest standards of hygiene and safety in public facilities, especially those entrusted with serving food to the community.