Published On
Criminal Justice 3 Episode 5 Explained: Mukul reveals why he recorded himself threatening Zara on his Dictaphone
Criminal Justice 3 Episode 5 was released on Friday and took forward the plot of the investigation of the gruesome murder of a social media influencer Zara Ahuja
Author :
Ujjwal Samrat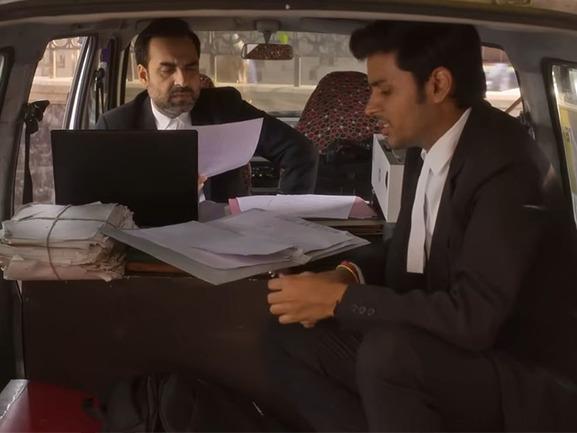 In India and the world, the arrival of Friday means the release of new web series, episodes, and movies, especially on OTT platforms. Similarly, Criminal Justice 3 Episode 5 was released on Friday and took forward the plot of the investigation of the gruesome murder of a social media influencer Zara Ahuja. Despite facing tough competition from shows like Delhi Crime Season 2, College Romance 3 (released on Friday) and Dahan, the Pankaj Tripathi starrer has impressed the fans and critics. With each new episode of Criminal Justice 3, the murder mystery behind child artist Zara Ahuja has been appearing messier and messier. But, that's what a strong directory, story, and screenplay of a crime thriller is all about it does not let the audience think or sense the climax at all. Criminal Justice Season 3 Episode 4 was concluded with Avantika Ahuja finding Mukul's Dictaphone (Zara Ahuja's stepbrother & prime accused) and she heard his own son curing her own step-sister. Criminal Justice 3 Episode 5 carries from thereafter (Spoilers alert).
The discovery of Mukul's Dictaphone and overhearing his curses shatters Avantika Ahuja. However, Mukul reveals to his mother why he actually said those things when she confronted him. Well, for those wondering what actually Mukul said that it justified his cursing to Zara, then for that fans have to watch the episode. Criminal Justice 3 Ep 5 brings back its star Pankaj Tripathi playing the character of Advocate Madhav Mishra. While the prosecution is keen to prove Mukul is the actual murderer, defendant Madhav Mishra used his wit and explains how the system and Police officials are the victims of confirmation bias. However, the end might worry fans who are praying that Madhav Mishra emerges victorious from all fronts. (To know what exactly happened in the mind-boggling episode of Criminal Justice, watch it on Disney Plus Hotstar).
Real vs Reel: Is Firebird a true story based on Sergey Fetisov's memoir 'A Tale about Roman' focusing on the LGBTQ+ community?
Criminal Justice 3
Criminal Justice 3 syopisis says it revolved around the death of a popular child star Zara Ahuja, and the prime suspect of her murder is her own brother, Mukul Ahuja. With wit and humour by his side, Madhav Mishra aka Pankaj Tripathi is back with Shweta Basu Prasad, Swastika Mukherjee, Purab Kohli, Aditya Gupta, Deshna Dugad, and Gaurav Gera. It is based on the 2008 British television series of the same name. Notably, Criminal Justice: Adhura Sach is directed by Rohan Sippy and produced by Applause Entertainment in association with BBC Studios.