Dancing girl video on Police vehicle sparks uproar; Jalandhar Div. 4 SHO sent to lines; Watch
Instagram star sits on Police car; Punjab Police faces scrutiny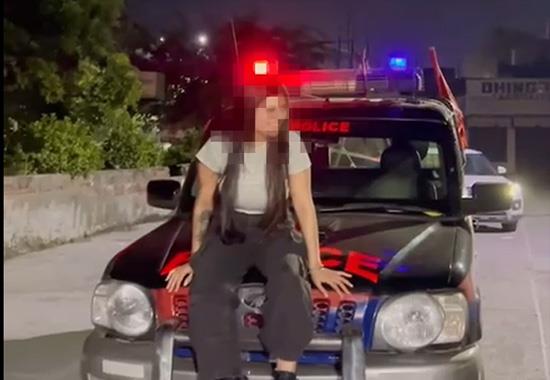 -

Jalandhar: In a shocking incident that has stirred controversy and raised questions about law and order in Punjab, an Instagram star hailing from Jalandhar created a major ruckus by sitting on top of the police car of SHO Ashok Kumar Sharma at Thana Char.

The incident, which was captured on video and subsequently went viral on Facebook, has left the Punjab Police in an embarrassing position.

Here's the viral video:
Dancing girl video on Police vehicle sparks uproar; Jalandhar Div. 4 SHO sent to lines; Watch #viralvideo #jalandhar #Police #PunjabPolice #INSTAGRAM #policevehicle pic.twitter.com/aUkxYiSRDm

— True Scoop (@TrueScoopNews) September 28, 2023
This video is widely circulated on Facebook, shows the Instagram star perched on top of SHO Sharma's police vehicle, criticizing the functioning of the police force. The incident has drawn widespread condemnation from both the public and law enforcement officials.
Also Read: Breaking news: Punjab Schools to alter timings due to cold weather, starting from October 1
In response to the viral video, Jalandhar Police Commissioner Kuldeep Chahal took swift action and ordered SHO Ashok Kumar Sharma to be sent to lines as a punishment for the perceived nuisance.
Commissioner Chahal assured the public that such incidents would not be tolerated and that the Punjab Police would maintain its commitment to upholding law and order.
Furthermore, regarding the viral video DCP Jagmohan Singh stated, "We have the video in our possession, and we are currently conducting an investigation into the matter. The responsibility for the investigation has been entrusted to the ACP Central. Once they provide us with their report, appropriate action will be taken."
The incident has sparked a debate about the respect and authority of the police in Punjab, with many calling for stricter measures against those who challenge law enforcement officers.