Published On
Darlings: Amid #BoycottDarlings Alia Bhatt's character has emerged out bashing patriarchal mindset
#BoycottDarlings was on among the top trend on the Twitter by a section of Netizens, who perceived movie is glorifying domestic violence against the men
Author :
Ujjwal Samrat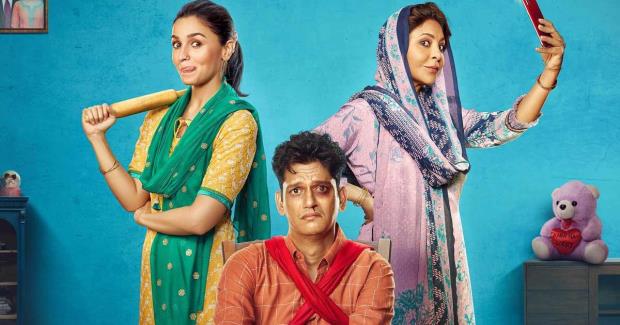 Since the trailer of Alia Bhatt and Vijay Varma starrer Darlings launched on the 25th of July, it has been surrounded by criticism and accused of generalizing domestic violence against men.
Although the plot of the entire case is differently shaped. Badrunissa Shaikh (Alia) is at the center of the plot a housewife subjected to rigorous domestic violence from her husband Hamza Shaikh (Vijay Varma). Poor Badrunissa bored all sorts of physical abuse but believed her husband will change and everything will get normal, but the story remained the same.
Alia's portrayal is so powerful that it brings life to the character and displays the plight of thousands of Badrunissas somewhere or the other in different pockets of the country. The plot brings along a dramatic twist when things spiral out of control and Hamza didn't show any sign of change in his behavior.
Badrunissa decided to bring things under her control by replicating the same that she had faced. This is the part of the entire story which has boiled the netizens and thus calls for boycotting 'Darlings', #BoycottDarlings, #BoycottAliaBhatt.
The character of Alia Bhatt does the same to her husband Hamza Shaikh as the latter did to her in the story's first part. Abuse, harassment, and all that Badrunissa faced. A dialogue from Alia's character in the movie goes like, "main inke saath wahi karungi ditto, jo ye mere saath kiye", I will treat him exactly how he treated me.
Bardrunissa tied her husband Hamza with a chair and tortured him with her mother and another character Zulfi. The movie is deemed negative for promoting violence against men, but exactly the portrayal of that violence is different as it has been perceived.
It needs to be taken as a lesson for those dominative patriarchal mindset men who have been devastating the lives of women for years, Hamza's character personifies the men coming from that section of the society.
'Darlings' is Alia Bhatt's first movie as the producer and features Shefali Shah, Roshan Mathew, and Rajesh Sharma among others. The movie is a comedy-drama directed by Jasmeet K Reen and was released on Netflix yesterday.