Published On
'Papa, Naa maro mumma nu': Daughter painfully screams in viral video as Indian-origin woman dies by suicide in New York
A 30-year-old Indian-origin woman Mandeep Kaur, a resident of New York, died by suicide on 3 August, after repeated domestic abuse
Author :
Ujjwal Samrat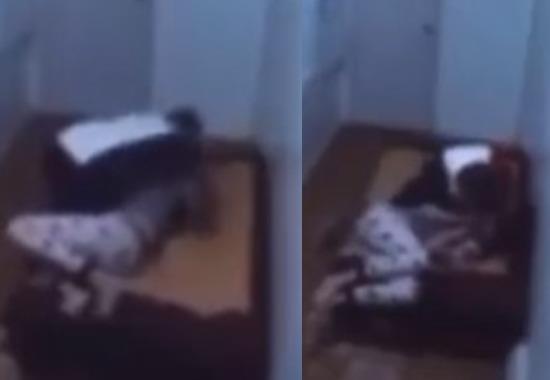 A heartbreaking and blood-boiling incident came to the fore after a woman decide to end her life after 8 years of continuous domestic violence. New York domestic violence CCTV footage has gone viral on social media and netizens are trending #JusticeForMandeep. The New York domestic violence viral video has shaken up the world and has been trending on Twitter, especially in India. For the unversed, a 30-year-old Indian-origin woman Mandeep Kaur, a resident of New York, died by suicide on 3 August, after repeated domestic abuse allegedly by her husband Ranjodhbeer Singh Sandhu for close to eight years.

In the case pertaining to this, Mandeep Kaur domestic violence viral video show how her husband Sandhu brutally and mercilessly beats her down and wraps her mouth with clothes so that her scream does not echo. While the husband kept on beating down his wife, the voices of the children (girls) can be heard crying and requesting her father saying, 'Papa, Naa maro mumma nu' (Father don't beat mother).
Justice For Mandeep
As per Quint, Mandeep Kaur is survived by her two daughters, aged four and six, whose custody currently lies with Sandhu. While the husband and daughters are currently in Richmond Hill, New York, his family is reportedly from Uttar Pradesh's Bijnor. Notably, before the suicide, Mandeep had shared her video narrating the ordeal of domestic violence abuse she had been facing for the past 8 years.
In the viral video, Mandeep said, "I am really very sad. It has been eight years. I have tried my best. I was beaten up every day. I have been suffering him and his beatings, thinking that he will improve someday. But no, he beat me up for eight years. Had extra-marital affairs. We lived there (in India) for the first two and a half years and it was hell."
Reportedly, the New York Police Department is currently investigating the case and has registered a case homicide in place of suicide.