Decoding India's National Education Policy 2020 & States that have rejected NEP in 2023
In the coming few years the National Education Policy 2020 will be at the epicenter of the debate of national as well as international media as its implementation may decide what India learns for the next century.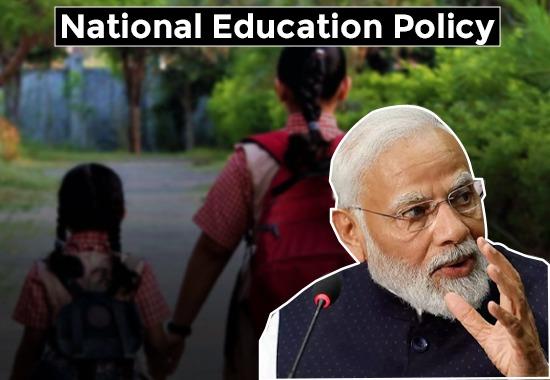 -

Memes and trolls have been targeting India's Education System for the past many years. While some point out the fact that teachers orate the lesson in the English language which is sometimes alien to many of them, others point out the fact that due to studies they have to sacrifice their co-curricular activities. It is a harsh fact that no nation has an absence of talents but what we lack is the system that nurtures such talents from early childhood days. As a result, the Modi Government in its second tenure decided to transform India's Education System with National Education Policy 2020 or NEP 2020. With the sole aim to transform India's education system by 2040, the Ministry of Education (previously known as MHRD) made significant changes to our education policy on July 29, 2020. The new policy replaced the previous National Policy on Education in 1986. Notably, in the coming few years the National Education Policy 2020 will be at the epicenter of the debate of national as well as international media as its implementation may decide what India learns for the next century. Therefore, for those who still cannot understand the basic concept of the National Education Policy 2020, you have landed on the right page. True Scoop News will present you what National Education Policy 2020 or what is NEP 2020 in layman's language and the politics revolving around the implementation of NEP 2020-

What is NEP 2020?

The National Education Policy 2020 envisions India's approach to a modern education system. The 2020 NEP is a comprehensive framework for not only elementary education but also higher education. The policy aims to transform India's education system by 2040. While introducing the policy, the government clarified that students would not be forced to study any particular language. However, it maintained that the medium of instruction would not be shifted from English to any regional language.

The NEP 2020 was drafted by a team of former ISRO chairman Dr Krishnaswamy Kasturirangan. Prime Minister Narendra Modi during one of his addresses in the Karnataka Elections stated that NEP has been formulated to ensure that the lack of knowledge of English should not stop an economically weaker child from rural areas from becoming a doctor or an engineer. During his address, he informed the nation that NEP 2020 was formulated after consultations with thousands of domain experts and on the suggestions of crores of people in India.

NEP 2020 Objectives

As mentioned above, the National Education Policy 2020's primary objective is to raise the standard of education in India to a global level, allowing the country to emerge as a leader in knowledge-based sectors. This goal is reached by the National Education Policy's universalization of education. To that purpose, the government has enacted various revisions to the former education policy as part of the National Education Policy 2023, with the goal of improving education quality and enabling children to have a good education.

National Education Policy 2023 Silent Features

The Ministry of Education laid down various silent features in the NEP 2023. Few of them which the NEP 2023 aims to achieve are written below-

1) Ensuring Universal Access at All Levels of schooling from pre-primary school to Grade 12;

2) Ensuring quality early childhood care and education for all children between 3-6 years;

3) New Curricular and Pedagogical Structure (5+3+3+4);

4) No hard separations between arts and sciences, between curricular and extra-curricular activities, between vocational and academic streams;

5) Establishing National Mission on Foundational Literacy and Numeracy;

6) Emphasis on promoting multilingualism and Indian languages; The medium of instruction until at least Grade 5, but preferably till Grade 8 and beyond, will be the home language/mother tongue/local language/regional language.

7) Assessment reforms - Board Exams on up7 to two occasions during any given school year, one main examination and one for improvement, if desired;

8) Setting up of a new National Assessment Centre, PARAKH (Performance Assessment, Review, and Analysis of Knowledge for Holistic Development);

9) Equitable and inclusive education - Special emphasis given on Socially and Economically Disadvantaged Groups (SEDGs);

10) A separate Gender Inclusion fund and Special Education Zones for disadvantaged regions and groups;

11) Robust and transparent processes for recruitment of teachers and merit based performance;

12) Ensuring availability of all resources through school complexes and clusters;

13) Setting up of State School Standards Authority (SSSA);

14) Exposure of vocational education in school and higher education system;

15) Increasing GER in higher education to 50%;

Also Read: 'Text bricks & more': Mistakes to avoid in your resume if you are applying for Google

16) Holistic and Multidisciplinary Education with multiple entry/exit options;

What is the 5+3+3+4 structure in the NEP 2023 or NEP 2020?

What is the major difference between the older National Education Policy and the new NEP 2020 or NEP 2023 is totally changing the 10+2+3 structure to 5+3+3+4. For instance, earlier, a student had to appear for board exams twice his career i.e. first during their matriculation or tenth and the second time during Intermediate or 12th. However, under the NEP 2020 or NEP 2023 the administration has divided student education into four segments under the new Pedagogical and Circular Structure. Secondary, Middle, Preparatory, and Foundational are the four sections. These four stages of schooling will be critical components of students' educational development throughout their school careers. The following is how these four stages of student education will be divided-

1) The Foundation Stage is the first step of education for children. Students will be groomed for 5 years in this program. These five years will include three years of Anganwadi/Pre-Primary/Balvatika, as well as first and second grade, hence the first numeric value '5'.

2) The second stage is the preparation stage. The preparation of education will also span three years. The third, fourth, and fifth grades will lay the groundwork for the intermediate and secondary phases. Hence the numeric value of '3'.

3) The third stage of education will be middle school. This is for students in grades 6th through 8th. These three years will prepare students for the ultimate part of their education, secondary school.

4) The secondary stage will be the final part of students' schooling lives; instead of two years, students will have four years from Class 9th to Class 12 to complete their secondary education.

NEP 2023: States which have accepted it and which have denied it

Notably, the National Education Policy which was supposed to transform India's Education System has been embroiled in politics and controversy as well. While the BJP ruled states have happily accepted the NEP 2023, the opposition-ruled states have totally denied it. Below is a list of states which have implemented accepted the National Education Policy.

1) In 2021, Karnataka became the first state to issue an order pertaining to the implementation of NEP 2022. However, with the change in power and return of the Congress in the state, the Karnataka government on August 21, officially announced that it has decided to withdraw the National Education Policy (NEP) and come out with a state education policy that would be in place for implementation from the next academic year.

2) Madhya Pradesh agreed to establish a New National Education Policy on August 26, 2021.

3)Uttar Pradesh CM Yogi Adityanath has stated that the NEP will be implemented in stages throughout the state.

4) The state of Goa plans to introduce the NEP in 2023.

5) States including as Maharashtra, Andhra Pradesh, Rajasthan, and Assam are also working to adopt the New NEP.

6) Meghalaya's chief minister stated that the state will soon be the first to fully implement the New National Education Policy.

States that have refused to implement NEP

States like Kerala and Tamil Nadu have rejected NEP. As mentioned above, Karnataka has also joined the list of states to reject the NEP.

Emphasis on Mother Tongue in NEP

Another major feature in the Modi Government's National Education Policy is the use of the mother tongue in school academics. In the NEP, children will be able to study in their mother tongue or regional language until the fifth grade. Not only this, the administration has stated that this slab can be raised to the eighth grade. Students will understand what professors are teaching them better if they study in their native tongue. This policy will also help children learn more about their native language.