Published On
Diwali 2022: New York declares Diwali a public holiday; Here's a list of countries that celebrate the festival of lights like India
Starting in 2023, New York City will observe Diwali as a public school holiday Author :
Samriti Bharadwaj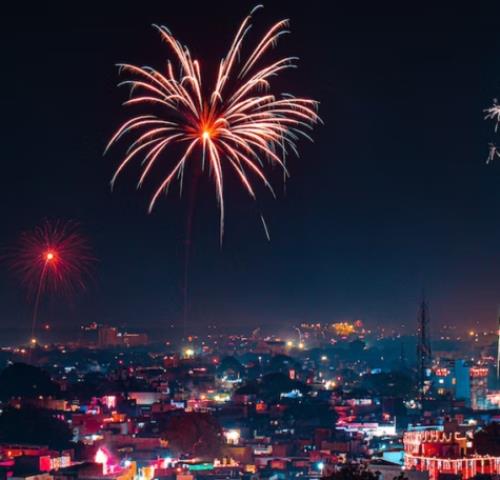 Diwali, also known as the Festival of Lights, celebrates the victory of good over evil, light over darkness, and wisdom over ignorance. The lighting of oil lamps during the celebration marks Lord Ram's return after 14 years of exile, as described in the epic Ramayana, which is widely observed by Hindus worldwide. Other Diwali traditions include exchanging
gifts, traditional sweets, and wearing new clothes. 
Starting in 2023, New York City will observe Diwali as a public school holiday. According to Mayor Eric Adams, this sends a statement about the importance of the city's inclusivity and the "long overdue" move would encourage kids to learn about the festival of lights.
Here are some ways people throughout the world celebrate Diwali, a festival of gratitude and joy.
SINGAPORE
The day, also known as Deepavali, is a holiday in Singapore. The fervor of Little India, which has a sizable Hindu population, is equal to or even greater than that in any Indian city! Flower arrangements, banners, and lights in various colors transform the streets. The air is filled with the enticing perfume of burning incense and flowers. As prayers are said to thank the almighty, people are dressed in their finest attire.
MAURITIUS
Mauritius has a large Hindu population, who, along with non-Hindus, celebrate the joyous festival of Diwali. On this multicultural island, Diwali day is a recognized public holiday, and the celebrations last for over a week. Family, friends, food, and fun are all important components of celebrations and fireworks enhance the festive atmosphere!
AUSTRALIA
New York, USA: American woman dancing to Punjabi song in Indian Baraat is unmissable; Video Viral
Australia has a sizable Indian population, and various local Indian communities celebrate Diwali in places like Sydney and Melbourne. In particular, Melbourne's Federation Square has hosted the biggest Diwali festival in Australia. Diwali is celebrated by all and is marked by a spectacular display of fireworks, live entertainment, Indian traditional dances, and art and cultural performances.
MALAYSIA
Despite the fact that Islam is the state religion of Malaysia, the country has a widely diverse population and celebrates Diwali as a public holiday. Similar to Singapore, all of the festivities take place outside of Hindu residences in Kuala Lumpur's Little India area. Gatherings of friends and family take place to pray and express appreciation for the blessings of the previous and upcoming years. Many Indian eateries in Kuala Lumpur have special menus during Diwali that include authentic Indian sweets and appetizers.
INDONESIA
Nearly all of the ceremonies carried out during this festival are similar to those in India and are fascinating to watch. Due to the fact that Diwali is also a public holiday, people have more time to socialize and enjoy the festival of lights.
FIJI
Considering the large Indian population in Fiji, Diwali is celebrated there with a lot of passion and passion. Additionally, since it's a holiday, people celebrate by throwing parties and receiving gifts.