Published On
Drug Smuggling: Heroin worth Rs 434 crore seized by DRI, 3 arrested
Directorate of Revenue Intelligence (DRI) caught a narcotics smuggling ring operating in Haryana through Sahnewal in the Ludhiana district
Author :
Samriti Bharadwaj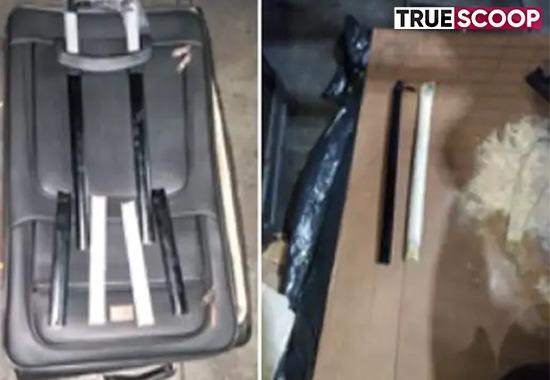 The Directorate of Revenue Intelligence (DRI) uncovered a narcotics smuggling ring that was running in Haryana via Sahnewal in the Ludhiana district, seizing 55 kilos of heroin worth Rs 434 crore. A total of Rs 50 lakh drug money was also recovered. These seizures were conducted by DRI teams in Delhi, Haryana, and Sahnewal, Ludhiana. The team produced the three accused arrested in this case in a Delhi court and took them on remand.

Operation Black and White was carried out by the DRI team to track down the narcotics nexus. Consignments of heroin were being sent from Africa to Sahnewal in Punjab's Ludhiana district, according to DRI officers. The shipment originated in Uganda and arrived at the Air Cargo Complex of Indira Gandhi International (IGI) Airport in New Delhi on May 10 via Dubai, according to sources.

During their inspection, the DRI team discovered a total of 55 kilogramme heroin in an imported cargo consignment, which they confiscated. There were 330 trolley bags
among the imported products. 126 trolley bags have tubes hidden inside the metal. It was difficult to figure out.

The DRI searched Shoe Land's warehouse in Sahnewal's Ramgarh area. Ramanjit Singh and Navjot Singh, who work at the shop, sell shoes, clothing, accessories, and trolley bags. Officials discovered 818 grams of heroin and cash worth more than 15.34 lakhs when they investigated both people's shops and godowns.

Also read: Punjab: 25-year-old guy dies due to drug addiction, "friends dumped his body in the drain", states police

The DRI team also confiscated the remaining 6 kilos of heroin as well as cash worth several lakhs from Haryana. This shipment was allegedly imported in the name of a Delhi-based importer. The real beneficiaries of the consignment were two businesses of Sahnewal, Ramanjit Singh and Navjot Singh. On Wednesday, the team appeared in a Delhi court to present three suspects detained in the case. They have been placed on remand for 14 days by the court. The team is actively examining the case for further clues and major revelations.