Published On
Elvish Yadav vs Arjun Bijlani: Why Bigg Boss OTT 2 winner is engaged in a war of words with the TV actor?
Cryptic tweets park heated online exchange and netizens' reactions Author :
Malkit Singh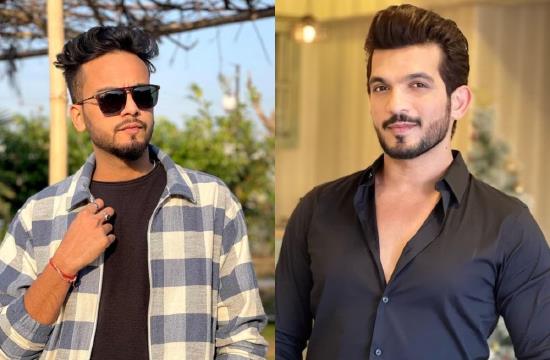 In the realm of social media, sparks flew as popular YouTuber and Bigg Boss OTT 2 wild card entrant, Elvish Yadav, engaged in a Twitter exchange with renowned TV actor Arjun Bijlani.
The banter between the two personalities was ignited by a cryptic tweet from Bijlani, prompting a flurry of reactions from netizens.
The Background:
For those who tuned into Bigg Boss OTT 2 this year, Elvish Yadav's name likely rings a bell as he emerged victorious as the show's winner.
Yadav is no stranger to making headlines, often for his extravagant lifestyle and collaborative ventures with celebrities, including music videos.
The Twitter Exchange:
Arjun Bijlani took to the microblogging platform to share a somewhat cryptic message regarding Bigg Boss and the apparent loss of respect towards women among contestants and their fan clubs.
His tweet read, "Big boss karke some people and their fan clubs have forgotten how to respect women. Sad !!"
Big boss karke some people and their fan clubs have forgotten how to respect women . Sad !!

— Arjun Bijlani (@Thearjunbijlani) September 16, 2023
Elvish Yadav wasted no time in resharing Bijlani's tweet, adding a witty comment that stated, "Mujhe Ab Pata Laga Tum Woman Ho" (I got to know now that you are a woman).
Mujhe Ab Pata Laga Tum Woman Ho🥹 https://t.co/FHyyzuYJUM

— Elvish Yadav (@ElvishYadav) September 17, 2023
User Confusion:
Following Arjun Bijlani's tweet, a user inquired about the context of his post. In response, another user shared a video, speculating about the possible trigger behind the actor's tweet.
I think this is the reason 🤔 pic.twitter.com/Nc182zBqn5

— A (@AmlitonS_12) September 17, 2023
Also Read: Punjab villagers in limbo after devastating flood; Dhaka Basti Residents seek Govt's help
Netizens Weigh In:
The online banter between Yadav and Bijlani quickly gained traction, prompting a range of reactions from netizens. Some expressed disappointment in the behavior of Bigg Boss winners, with one user lamenting, "I feel ashamed that I liked you once. Big Boss k winners ka level is going down with every passing season (sic)."
Others appreciated the humor in Yadav's response, noting, "Roasting at the next level (sic)."
Support for Arjun Bijlani also surfaced, with a third user commending him for standing up for women while raising questions about the logic behind Yadav's response.
Another user expressed concern about influencers like Yadav being influential figures for the current generation.
As the banter continued to generate buzz online, one user humorously asked Bijlani, "sach mein kya behen?" (Is it true, sister?).
Conclusion:
The social media banter between Elvish Yadav and Arjun Bijlani over Bigg Boss OTT has captured the attention of netizens, serving as a reminder of the power of online interactions and their far-reaching impact on public perception. The cryptic tweets and witty responses have sparked a lively debate, highlighting the ever-evolving landscape of social media discourse.
More about Arjun Bijlani
Arjun Bijlani is an established television actor, who is currently seen in the show Pyaar Ka Pehla Adhyaya: Shiv Shakti as Shiv Kashyap. Simultaneously, he is also hosting the talent show India's Got Talent 10.
About Elvish Yadav
Elvish Yadav, the 26-year-old is a YouTuber, who entered Salman Khan's OTT reality show, and emerged as the winner. Yadav already had a massive loyal fanbase, and his win added to the fanbase.
In one of his recent vlogs, the young influencer shared that he purchased Rs. 8 crore's plush house in Dubai and also celebrated his birthday at a yacht in the middle-east.
Currently, he is in the news for his music video's release and was seen reuniting with his Bigg Boss OTT 2 co-contestants at the show's success bash.